Considering Christian Education for Your Family?
Visit us online for our Virtual Open Houses in November!
See if Christian Academy might be right for your students. Hear and speak with principals, parents and students from each of our campuses in an interactive online session. Use the Click Here registration button below to sign up.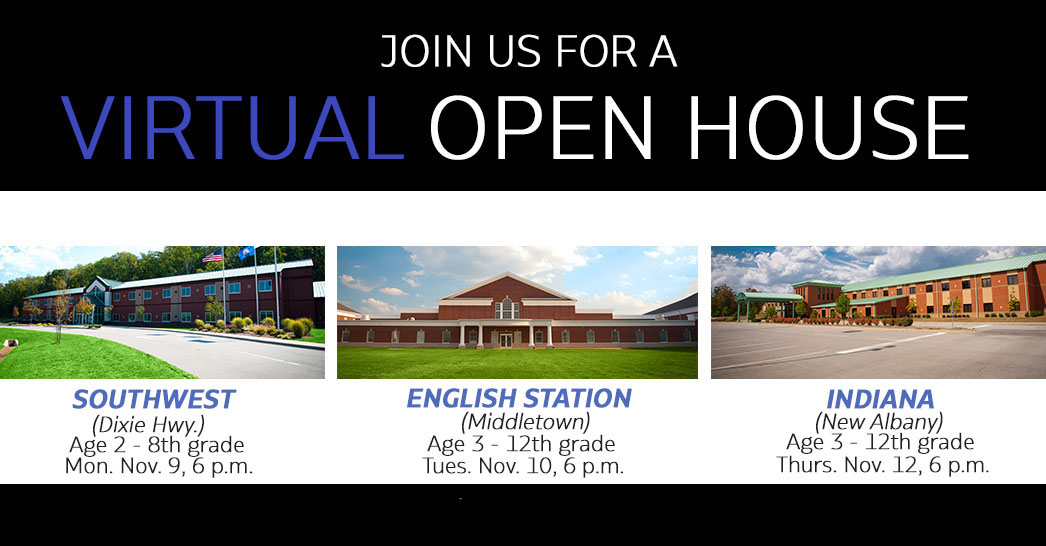 Online sessions begin at 6 p.m. for each campus:
Rock Creek

 

(St. Matthews, Age 2-5

th

 grade)
Christian Academy will be consolidating into three campuses in the Fall of 2021. We are no longer taking applications for our Rock Creek Campus. Please join us for one of our other three Virtual Open Houses!

Southwest

 

(off Dixie Highway, Age 2-8

th

 grade)

 

Monday, November 9
English Station

 

(Middletown, Age 3-12

th

 grade)

 

Tuesday, November 10
Christian Academy of Indiana

 

(New Albany, Age 3-12

th

 grade)

 

Thursday, November 12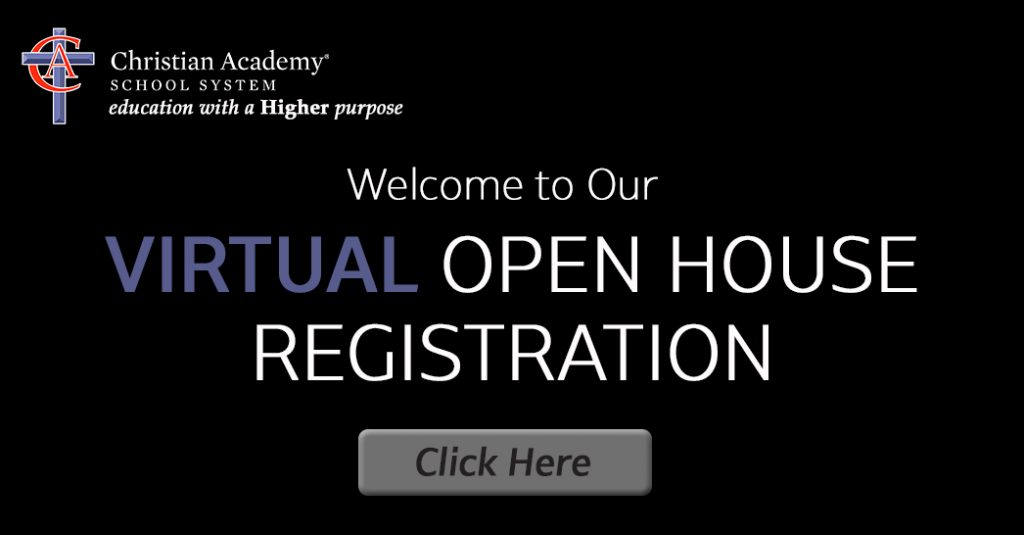 You can also call (502) 753-4590 with any questions or to schedule an on-campus tour.
Come Experience:
How an integrated biblical worldview changes how students learn and strengthens their faith
Our comprehensive music, computer, art, theatre and STEM programs
Sports and activities that encourage the God-given potential of each student
Small class sizes and a nurturing environment that encourages students to learn but also love, pray and support each other
Meet Students, Parents, Faculty and Staff:
Learn how each class empowers and engages each student
Hear from teachers, coaches, art and music teachers
Share our mission to stimulate hearts and minds to form Christian Leaders
Ask parents why they chose Christian Academy
See what our students are like and how your child will feel at home
Discover how Affordable Exceptional Christian Education can be:
Hear how Christian Academy is one of the most affordable private schools in the area
Learn about how we appreciate Christian giving and ministries in our assistance
Questions?
We would love to have you join us. Please call Lisa Ludwig at (502) 753-4622 with any questions. We look forward to hearing from you to see if Christian Academy might be right for your family.
"After six almost seven years in the system, we have been blessed over and over by CAL, by the commitment to excellence in all areas–academically and spiritually."
– Christian Academy Parent
"My teachers REALLY care! They help me do my best in everything. I love it here." 
– Elementary Student