Both music and art are integral parts of the curriculum for all age levels.
Music: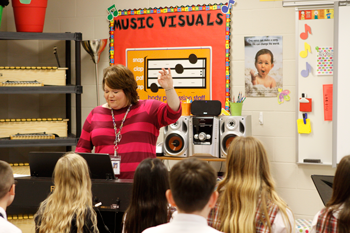 Music participation provides a unique opportunity for literacy preparation. Whether students are singing, playing, or listening, teachers direct them to listen and hear in new ways which exercises aural discrimination. Adding movement to the lessons and playing instruments instructs children about sequential learning which is essential in reading comprehension.
The curriculum for music seeks to develop and encourage students in the areas of: vocal training, singing, diatonic scales, pitch matching, singing rounds and descants.  The students will also learn to identify tempo, melody, tone color, style and harmony. Recorders are reviewed with an emphasis on playing and singing in ensembles (recorders, Orff instruments and voice).
Art: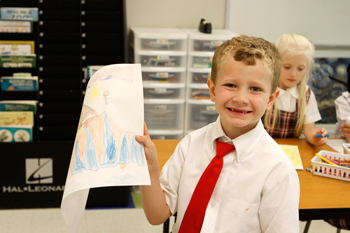 In art, students will use a wide variety of media with emphasis upon developing aesthetic concepts, understanding the role of art in our cultural heritage, and developing a satisfactory individual self expression. Arts learning can also improve determination, focus, teamwork and confidence.