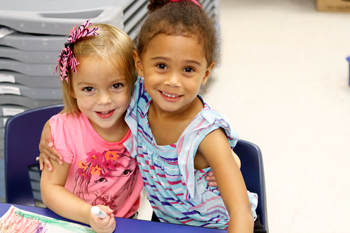 The full-day Junior Academy (Preschool) program is available for students, Monday-Friday, from 7 a.m.- 4 p.m.  A seperate Junior Academy After-school Care program will be offered from 4-6 p.m. at an additional cost for families who choose to register.
As current research reveals, early childhood is the most important time of development in the life of young children. 
The goal of our Junior Academy (Preschool) programs is to stimulate the child's physical, mental, emotional, and social development while maintaining a strong spiritual emphasis. The philosophy of our scripture-based curriculum is that young children learn best by doing. With the understanding that play is their "work," a balance of child-initiated and teacher-directed activities help to prepare the children for future academic growth and development.
A loving, Christian environment is provided by Christian teachers who celebrate the individuality of each child and recognize each as a precious gift created by God.  All programs are in preparation for Kindergarten with special emphases on phonics, math, music and handwriting.  The weekly chapel service is centered around the weekly Bible story.  We also offer enrichment classes in music, PE, computer, Spanish and library.
The are many opportunities for family involvement and participation with an active Parent Teacher Organization.
The Southwest Junior Academy (Preschool) is a member of the Association of Christian Schools International (ACSI) and is licensed by the State of Kentucky.