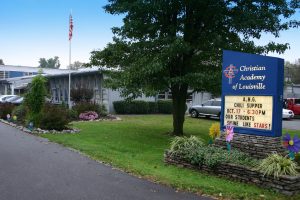 In 1976, Christian Academy began with 120 students in two rented church facilities.  As Christian Academy began to outgrow these facilities, a location was sought that would provide room for program expansion, as God had richly blessed enrollment, and was laying Christ-centered education on the hearts of more and more families.
Each new location possibility seemed to quickly end with a sharp "dead end" sign posted firmly in place.  As the Board of Directors began to diligently pray and seek God's will for the school's future, an announcement was made that Kentucky Country Day, a privately owned school, would be moving and their building was for sale.
In August 1978, through generous gifts, diligent prayer and hard work, the financing needed to secure the Kentucky Country Day facility became available, and the first school in our system was created.  In August 1978, Rock Creek opened with an enrollment of 326 students, serving grades 1-9.  10th grade was added in fall 1979, 11th grade in fall 1980, and in the spring of 1982, Christian Academy of Louisville celebrated its first graduating class.  Many thought it would never be possible, but as we all know and have witnessed, when God decides to move, even the mountains step aside.