Greetings!
I am grateful so many families have entrusted their children to the Christian educators and instructional program of Christian Academy School System! The instructional program here is intended to honor how God created children. "God created man in His own image" (Genesis 1:27) and then gave man the mandate to "fill the earth and subdue it" (Genesis 1:28). Therefore the nature of learners, as image bearers of the Creator, provides the framework for curriculum and teaching methods. Learning activities are focused on the reasoning, creative, purposeful, and relational nature of students by targeting critical thinking, problem solving, exploration, creativity, and collaboration. From Kindergarten through 12th Grade the subject matter progresses in a manner that equips students with skills and knowledge to become good stewards of God's earth, and respected citizens.
The mission of the educational program is to equip students to be self-directed learners who develop a heart for God and grow as Jesus did in wisdom, stature, and in favor with God and men. Proper nurturing of the heart and mind leads to this desired outcome of learning. Educators in the Christian Academy School System are sensitive to how the maturation processes of the mind, social development, and spiritual growth all play a part in the development of learning. As a result the content of science, social studies, math, English, foreign language, technology, physical education, and fine arts are presented from the biblical perspective in a manner that is age appropriate, yet challenging. Learning goals for biblical knowledge, worldview, and spiritual growth are intentionally included in the curriculum, chapel programs, and mission opportunities.
As you and your children experience the academic side of Christian Academy School System, my hope and prayer is that you also sense how the essence of Christ filters through all that we do.
By His Grace,
Linda Rafla
Assistant Superintendent
Christian Academy School System
Curriculum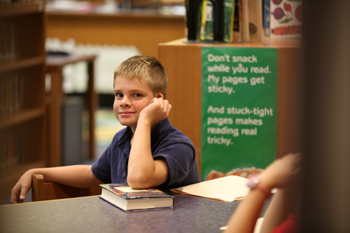 These curriculum overviews have been prepared to assist you in gaining an understanding of what students at each specific grade level are taught. Teachers and other school staff are prepared to present a balanced instructional program and establish an environment conducive to learning. The purpose of these guides is to answer several common questions…
"What will my child be taught in this grade?"
"What makes this grade unique?"
We hope you find the information helpful in answering your questions. For more detail, we encourage you to talk to the teacher of a particular grade or the school's principal.