9th-12th Grades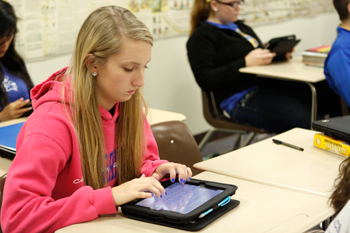 Refining Convictions and Wisdom
High school is a time of preparation and definition in each student's life as he or she moves toward independence. Christian Academy celebrates the drive, ambition, leadership qualities, and creativity of its students. The class of 2019 received more than $2.2 million in total scholarship awards.
Students have been recognized by the National Merit Scholarship and College Board AP Scholars programs, with yearly nominations for the prestigious Governors Scholar distinction.
Students interact with our talented and credentialed faculty in a 14:1 student-to-faculty ratio, which strengthens confidence and promotes academic success.
Our High School program:
Provides from more than 100 class offerings in the areas of Bible, mathematics, english, science, social studies, fine arts, foreign language, business and computer, health, physical education and home economics.
Offers Advanced Placement and Honors classes in major subject areas.
Assists students with course selection as well as college entrance testing and preparation skills needed in the college application process.
Trains students to live out Christian principles and Biblical truths as they develop strong character.
Includes weekly chapels with programs that deepen students' convictions and spiritual maturity.
Encourages students to participate in a variety of sports offerings, band, orchestra, choir, digital photography, web design, and theatre arts.
"Whatever you have learned or received or heard from me…put it into practice. And the God of peace will be with you." – Philippians 4:9