6th – 8th Grades
Fortifying Knowledge and Truth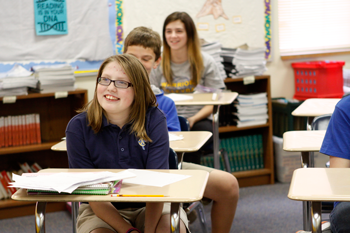 Middle school is a time of transition, a time of physical, emotional, spiritual, and academic growth. Our dedicated teachers guide their students through the challenging academic environment with great expertise and grace. Core subjects include math, science, literature, language arts, history, and Bible. These classes are complemented by additional studies in computer, physical education, art, Spanish as well as band, choir, or orchestra.
Our Middle School program:
Incorporates a Biblical worldview in all subject areas.
Provides a stimulating weekly chapel, student-led vocal and instrumental worship teams, as well as speakers from the local Christian community.
Utilizes service projects that honor God through service to fellow students, our community and our world.
Supports healthy, morally-appropriate relationships with fellow students.
Maintains a mutually respectful, well-organized environment, conducive to optimal learning and enjoyment.
Teaches the critical skill of applying biblical truths to everyday life situations.
Values and utilizes parental involvement for the betterment of our school.
"Do not conform any longer to the pattern of this world, but be transformed by the renewing of your mind. Then you will be able to test and approve what God's will is – His good, pleasing and perfect will." – Romans 12:2