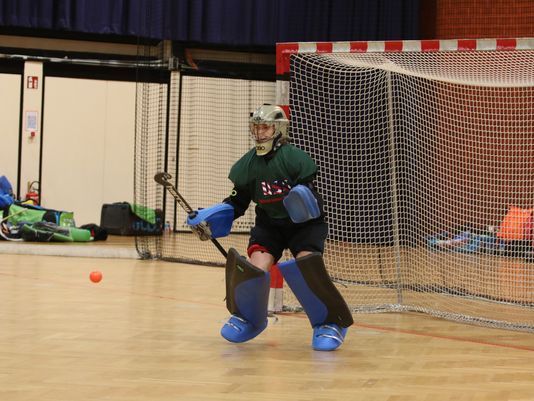 Samantha Minrath is only 16 years old, but she's a member of the U.S National Team.
Last Wednesday, USA Field Hockey announced that Minrath had been called up to the U.S. women's national indoor field hockey team that is gearing up to take part in the 2017 Pan American Indoor Cup in Guyana from Oct. 14-22. The tournament is serving as a World Cup qualifying competition for the 2018 Indoor Field Hockey World Cup in Germany.
"It's such an honor. I was so surprised," Minrath said in a phone interview. "I was named to the (Under-17) team last year so I expected I'd be moving up to the U-19 team this year. But when I found out it was such an honor, I'm so excited to rep Kentucky and the U of L."
Minrath, a junior goalkeeper for Christian Academy of Louisville and her club team IFHCK, has already committed to the University of Louisville to play outdoor field hockey.
This is the second full national team call-up for Minrath. She took part in the 2017 Rohrmax Cup last January in Austria, helping lead the USA Red team to the title. Her squad faced a pair of local indoor women's clubs as well as the Austria and Switzerland Under-21 teams.
Unlike outdoor field hockey, indoor field hockey is played on a court similar to a basketball court although with a different floor surface. Each team has five players and a goalkeeper as opposed to the standard 11 players on each side.
Despite her recent accomplishments in the sport, Minrath said she only started playing field hockey five years ago. But soon after playing as the goalkeeper of her club team, she fell in love with the sport.
"I just loved it because you get a lot of shots as a goalkeeper," Minrath said of indoor field hockey. "Most people compare the goalkeeper to the quarterback of the team. I get the opportunity to encourage and direct people, but I also get to have high-intensity moments in the cage and circle. I enjoy those moments."
Although she plays for the indoor national team, Minrath is also active on the outdoor field. She helped lead Christian Academy to the semifinals of the last two state tournaments. Minrath said that Louisville field hockey coach Justine Sowry, a former goalkeeper herself, was a big reason for why she committed to the Cardinals.
Although there's no professional indoor field hockey teams here in the U.S., Minrath said there's a chance for her to stay involved with the national team during and after college, as well as playing professionally in Europe.
"I hope to make an outdoor national team in some form but hopefully I get to play on this indoor national team until I get out of college," Minrath said.
Article Poster 4/29/17 http://www.courier-journal.com/story/sports/preps/kentucky/2017/04/29/cal-junior-earns-national-team-call-up/307843001/