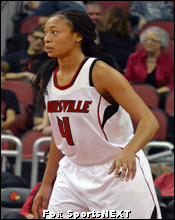 University of Louisville junior Antonita Slaughter has become a key member of the women's basketball team. Slaughter has score in double figures two of the past five games and has been one of the team's leading rebounders.
Many times during her first two seasons with the University ofLouisvillewomen's basketball team, coach Jeff Walz preached to Antonita Slaughter about what she could do to help the program.
The former Christian Academy star showed flashes of being a solid player, but averaged just 3.2 points as a freshman and 4.7 as a sophomore.
Now, a junior and Slaughter seems to have turned the corner. Heading into Friday's game at Colorado, Slaughter has become more aggressive and assertive on the floor and has turned in some solid games.
"It's focus and her approach to the game," Walz said. "She's played great for us lately and she has to keep playing like that. She can do it."
Slaughter, who leads the team at 35.5 percent from three-point range this season, had a team-high 13 points with four rebounds and three assists last weekend in a blowout over Valparaiso.
While her averages are just 5.5 points and 4.6 rebounds, Slaughter has seen her numbers rise in the past five games and said it's because of confidence.
"I think I am just more confident," Slaughter said. "I think my team has started to have confidence in me. I just need to come out and performer just like that every night now. I feel like I am playing a lot better."
Slaughter is averaging 18.5 minutes a game and has hit 11 of 31 three-pointers, while hitting 38 percent overall from the field.
Walz said Slaughter, who hit around 35 percent from three-point range each of her first two seasons, can still get better, especially from long range.
"If she would just dedicate herself and say, 'You know what, I am going to be a 40 percent three-point shooter,' she could do it," Walz said. "She has to be making 200 three-pointers a day. She has to dedicate herself before and after practice.
"She can do that and hopefully she realizes it."
But Walz admitted Slaughter has "come a long way," from the beginning of the season and certainly since last season.
"She just needs to continue it," he said.
Slaughter will likely be needed to perform at a high level on Friday, The Cardinals will be without Sara Hammond, who will be home in Mount Vernon, Ky., after death in her family this week.
Slaughter came to U of L after an All-State career at Christian Academy. Her sister, Toni, is former U of L player and her brother, A.J., was a standout player at Western Kentucky University.
Article posted 12-13-12 http://louisville.scout.com/2/1249071.html