Good work among good works earns Kentucky football's Max Godby a scholarship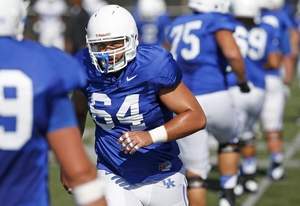 There was nothing unusual about University of Kentucky football coach Mark Stoops huddling his team together after Friday's practice. The uproar that ensued is what set this one apart. After his daily speech, tucked in among his routine announcements, some big news: junior walk-on center Max Godby got a scholarship.
"I didn't know at all," Godby said. "I thought he was talking to someone else. I was looking around, thinking maybe he meant someone behind me. But after I figured out it was me, it was a little overwhelming. It was a lot of joy. I just had to sit down and say a prayer."
As Godby cried, his teammates roared. They engulfed him with hugs and high fives.
"Their reaction to it tells you a lot about Max," offensive line coach John Schlarman said. "He's one of the best people you could be around. I couldn't think of a better guy to get it. It was great, watching him and knowing how he felt inside."
Godby, who now looks the part at 6-foot-4, 280 pounds, had virtually no recruiting interest coming out of Christian Academy of Louisville, where he played center, defensive end and long snapper. But he had a dream of playing college football and, as a deeply religious young man, more faith than most that it would one day come true.
"Four years ago, my parents and I were praying: Where does God want me to be?" Godby said. "Every door was just slammed shut, and UK was the only one that was open. It was like, 'OK, we're going to trust in God. We're gonna take this route.' "
He redshirted in 2010. He was on the scout team in 2011. He played sparingly in one game, against Samford, in 2012. He entered preseason camp three weeks ago as the Wildcats' No. 3 center behind Zach Myers and Zach West. Doors still seemed to be slamming in his face, but he pressed on.
Finally, those doors started swinging open. West moved back to left guard, where he started every game last season, because he just never got comfortable at center. Then Myers suffered a foot injury before Kentucky's first full scrimmage, so Godby ran with the starters that day. He's been with them ever since.
"He surprised a lot of us," West said. "He's done really well in both scrimmages, and he's taken a leadership role. For him to be in that spot, it's huge for a lot of people. It shows that a lot of hard work can eventually pay off."
Player bios in UK's media guide include a section called "Community Cats" where each guy's charitable works are outlined. Most are a couple of sentences long. Godby's reads like a novella. His bio includes 20 words to describe his playing career at Kentucky and 118 to describe his good works. He's heavily involved in the school's Christian Student Fellowship, speaks at churches, visits children's hospitals, helped with relief efforts in Haiti and Joplin, Mo., after disasters.
"I feel a kinship with people who deserve things," said offensive coordinator Neal Brown, a former walk-on himself. "He deserved it."
But not just because he's a good guy. This is big-boy football, after all. The Southeastern Conference chews up good guys who can't play.
"As a coach, you always love those underdog stories, those guys that get in the mix because of their hard work and their dedication and their really buying into the team philosophy and mentality and paying their dues," Schlarman said. "But at the same time, you're always going to put the guy out there that does the best. It's always neat to have a story like that, but it's also important that he can get the job done."
Schlarman thinks Godby can. While there's still a week to get Myers back, he was still in a protective boot at Saturday's practice and Brown said there's a good chance Godby will start against Western Kentucky in the season opener this coming Saturday.
After he learned he was getting a scholarship Friday, after the tears and cheers, Godby sneaked off by himself to the empty offensive line meeting room "to just think for a little bit, kind of process what just happened. It was awesome. I thank Coach Stoops for it. I thank the coaching staff. And I thank God for it."
Godby's first phone call was to his father, who fell apart upon hearing the news. His dad once dreamed of being a major-league baseball player. That dream went unfulfilled.
"So my dad wanted to make sure I could fulfill mine," Godby said. "He's done everything he possibly could to help me fulfill that. It's through his hard work, his constant motivation for me, my mom completely supporting me through the whole time, and then more importantly God just directing me in the right steps. I'm very thankful. Very thankful."
Article Posted on 8/24/2013 http://www.courier-journal.com/apps/pbcs.dll/article?AID=2013308240093&nclick_check=1