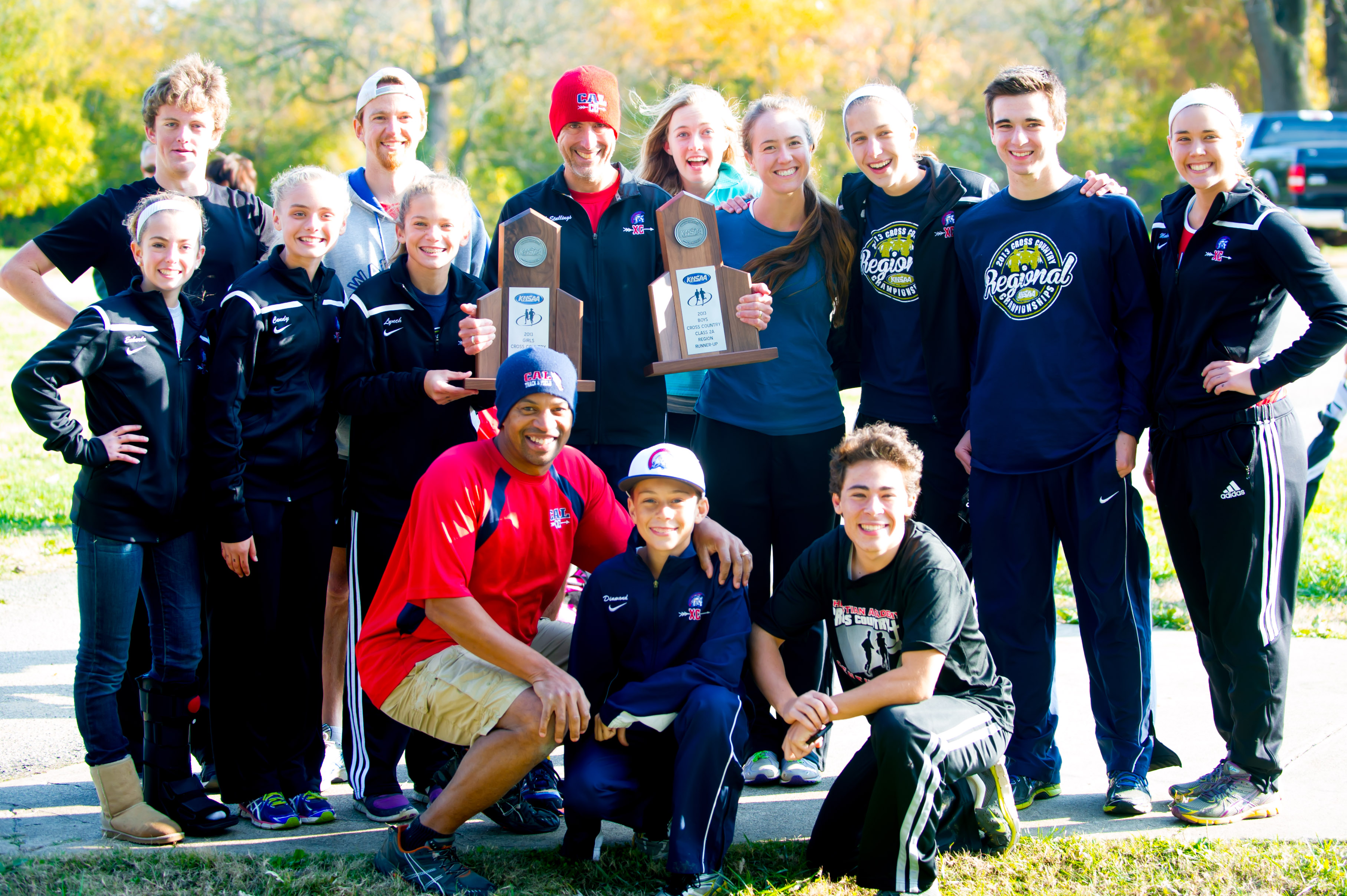 On a crisp Saturday afternoon, both the boys & girls teams extended their seasons one more week, by qualifying for the State Meet at the Kentucky Horse Park next Saturday.
The boys took the starting line first, in the 13 team Regional, including top-ranked North Oldham. As expected the Mustangs ran away the the Regional Championships, but the Centurions ran strongly to secure Regional Runner-up honors. The Christian Academy runners started the race conservatively and at 2 miles were sitting in 4th place. But then the runners began a nice push to the finish, picking up valuable places. Seniors Caleb Pryor and Eric Lesmeister crossed the line in the same time of 17:59, to lead the way, placing 10th and 11th. Andrew Sitlinger, Conner Cloyd and Austin Schaper formed a nice pack to take the 16-18 spots. Adam Waggener and Dominic D'Ettorre completed the team performance. The team is strongly positioned to improve on their #8State ranking.
The girls race was a titanicbattle between the #2 Lady Centurions and #3 Lady Mustangs. Both squadshave had a key runner out for the last half of the season. North's # 2 runner Marissa Lowe returned to action last week,enabling their full squaded team to pull out a very narrow Regional Championship title. The Christian Academy runners, with teammate injured Christin Eckerle's name written on their knuckles, had an outstanding raceto finish only 3 points back of the Mustangs. Clara Lynch and Hannah Herd ran in tandem the entire race, finishing within 1 second of each other, placing 3rd and 4th. CallieDonaldson worked her way through the field, to take the 5th place spot. Freshman Candace Putlak broke 22 minutes for the first time, to finish 12. Kenzie Stovall had a good kick, in spite of back pain toput another Centurion in the top 20. Caroline Hughes and Maddie Luetterounded out the team'sfinish.With Christin expected to join the team next week, the team is looking for a very high placing at the State Meet!
Regional 3 Places & Times for Christian Academy Boys
10. Caleb Pryor, 17:59
11. Eric Lesmeister, 17:59
16. Andrew Sitlinger, 18:11
17. Conner Cloyd, 18:15
18. Austin Schaper, 18:18
20. Adam Waggener, 18:25
23. Dominic D'Ettorre, 18:42
Regional 3 Places & Times for Christian Academy Girls
3. Clara Lynch, 20:16
4. Hannah Herd, 20:17
5. Callie Donaldson, 21:00
12. Candace Putlak, 21:57
18. Kenzie Stovall, 22:28
25. Caroline Hughes, 23:40