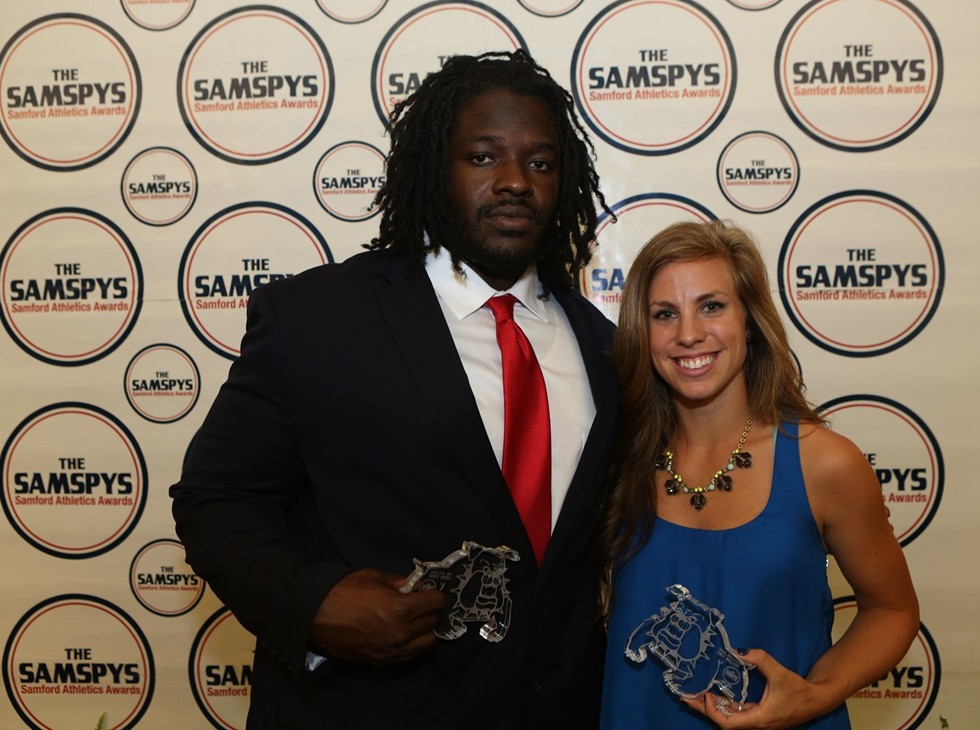 BIRMINGHAM, Ala.— The Samford athletics department held its sixth-annual SAMSPY Awards Monday evening at Hyatt Regency Birmingham – The Wynfrey Hotel in Hoover.
The SAMSPY Awards are held to honor Samford's student-athletes, teams, coaches and administrators for their accomplishments throughout the year.
A total of 21 awards were given out at the event. The first awards were the Team Academic Awards. These awards were given to the teams, one male and one female, that posted the highest grade-point average in the past year. The women's tennis and men's golf teams took home the Team Academic Awards.
The Miss Bulldog and Mr. Bulldog Awards were the final two awards of the evening. These awards are given based on all-around academics, athletics, team leadership and service.
The Miss Bulldog award went to Emily Mallory of the women's tennis team. Mallory helped lead the women's tennis team to its best record in school history. She earned second team All-SoCon honors in singles play and finished the regular season with a 15-2 record. In the classroom, Mallory was named to the 2013 Spring Academic All-SoCon team by registering a 3.81 grade-point average in business/economics.
Jeremy Towns of the football team was named Mr. Bulldog. Towns is the epitome of a true student-athlete. During his time at Samford, he has been an outstanding student and a model citizen. He has been heavily involved with community service and has won numerous leadership and service awards. On the field, Jeremy overcame injuries earlier in his career to serve as a starter on the Bulldog defensive line as a senior, helping lead the football team to its first Southern Conference title and a bid to the NCAA FCS Playoffs.
Emily Mallory is a 2009 CAL Graduate.
Posted 4/28/14 http://samfordsports.com/news/2014/4/28/saac_0428142523.aspx?path=saac#.U2EKAEPj4vw.email