Grace Jennings – Tennis, Samford University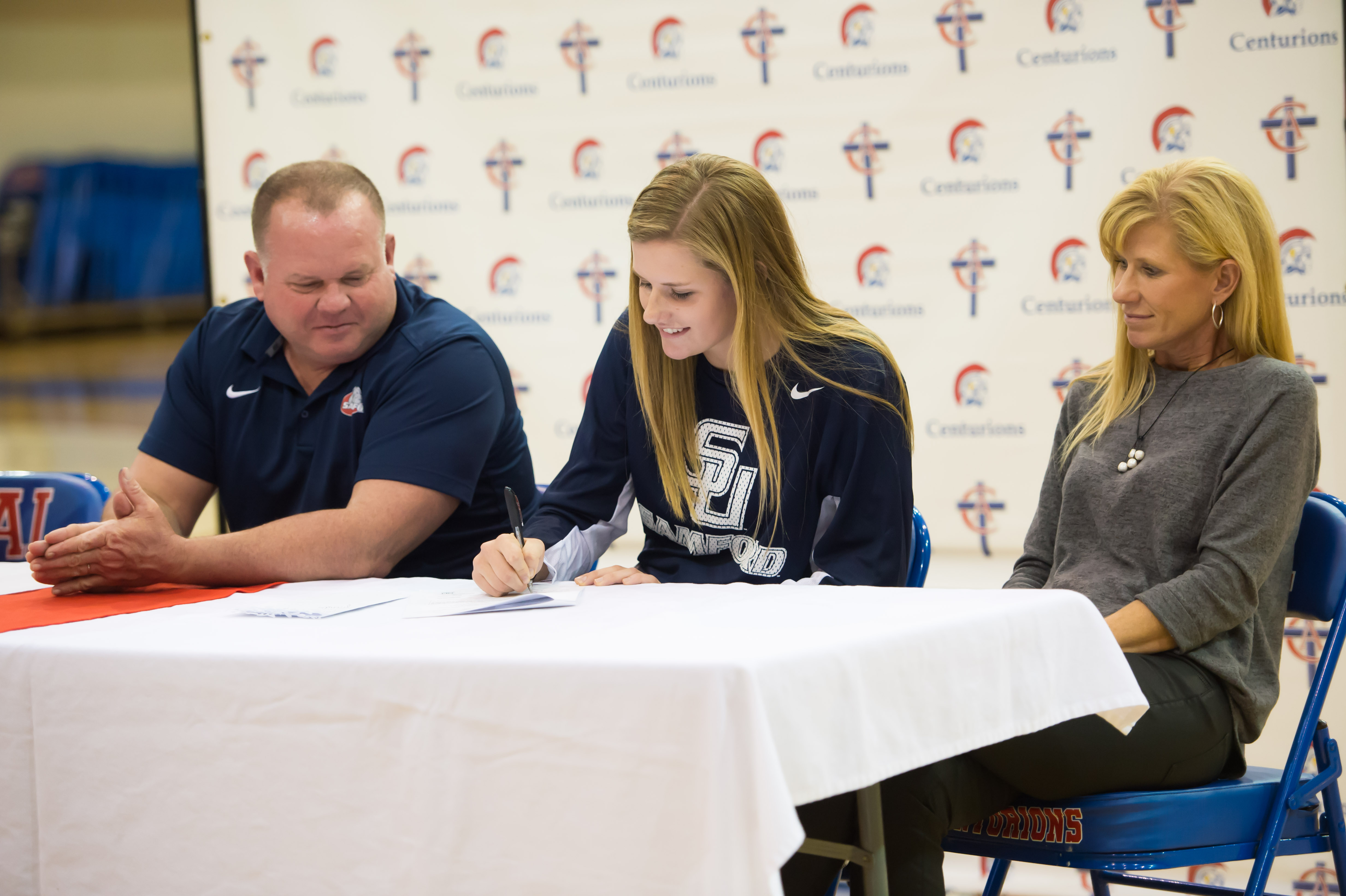 Congratulations to senior Grace Jennings who signed a letter of intent to play tennis at Samford University.
Grace has attended CAL for 6 years and started playing tennis at the age of three. She won the KHSAA State Singles Championship in 2015.
Amy's parents, Jeff and Amy Jennings, were emotional in speaking about the hard work and dedication it has taken Grace to achieve this level of success.
"I have seen the sacrifices Grace has made each day, year after year. She has always been blessed with incredible coaches. We are so proud of her," said Jeff.
Jennings' private tennis coach, Rob Spencer, also spoke to the work needed to be able to play at a Division 1 school and said, "I expect Grace to do extremely well at the next level."
"I have been blessed with so many friends and coaches who have supported me over the years. I am extremely thankful to my parents who have been with me the entire way. My friends, coaches and parents have shaped who I am today," said Jennings.
"When I first stepped on Samford's campus it felt like home. It has a small town community feel while being in the big city that Birmingham is," said Jennings.
Jennings also visited UAB, Western Carolina, Indiana and Western Kentucky University. Grace is undecided in her major and looks forward to playing for the bulldogs next fall.​
Cameron Brown – Swimming, University of Alabama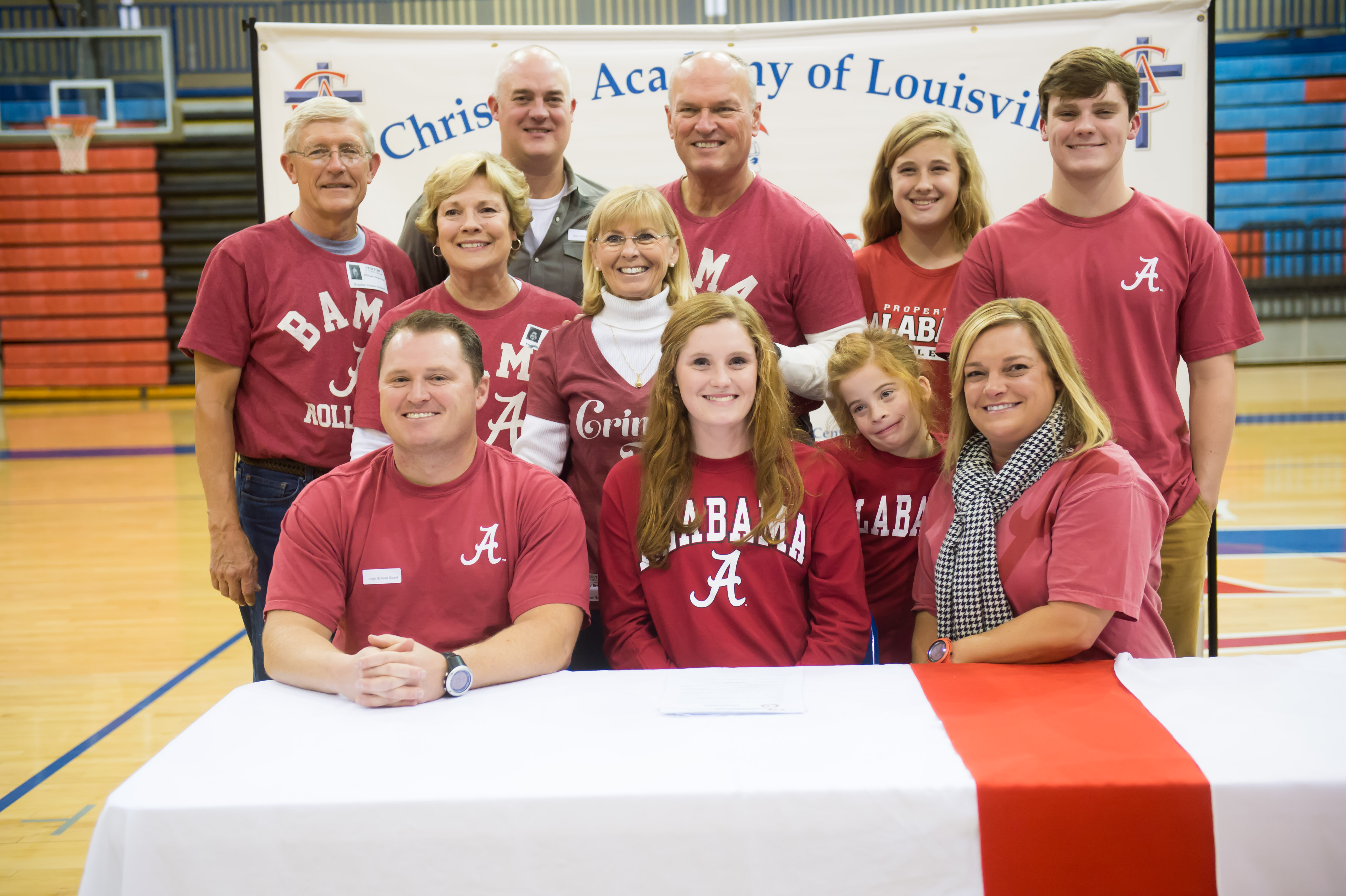 Congratulations to Cameron Brown, who signed a letter of intent to swim at the University of Alabama on Wednesday.
Brown started swimming at the age of 7 and has been at CAL for 5 years. She was named to the Scholastic all-American team, all region team, all state team, and is a state record holder. In addition, she is a 2-time NCSA junior national champion and is ranked nationally 3rd in the 400 freestyle relay and ranked 4th in the 200 freestyle relay.
CAL head swimming coach, Amy Albiero, attended the signing ceremony and praised Cameron for her dedication and hard work.
"People outside of the swim community don't realize what the sport of swimming requires day in and day out, especially to pursue a Division I opportunity. The work starts at a very young age and the dedication and perseverance to get to this level speaks to Cameron's character. I've enjoyed watching her get better and better each year. She is extremely competitive and is a humble winner. Cameron wins with a lot of grace," said Coach Albiero.
Brown also made official visits to UNC, Kentucky, and Louisvillefor swimming before deciding to attend the University of Alabama.
"The University of Alabama is the perfect fit for me because it has everything I am looking for in a school and I believe that I will be able to reach my full potential there. I loved the atmosphere of the school and felt right at home with the team and coaches. I am super excited and ready to contribute to a swim program that is on the rise. I know Alabama will help me to develop as a swimmer, student, and person in order to achieve my goals," said Brown.
Cameron plans to major in pre-med and study Biology and looks forward to swimming for the Crimson Tide next fall.
​Dana Joss – Lacrosse, Longwood University
Congratulations to senior Dana Joss who signed a letter of intent on Thursday to play lacrosse at Longwood University in Virginia.
Joss came to CAL in the 6th grade and started playing lacrosse at the age of 10. Dana has also been a member of the varsity soccer team for the Centurions since the 9th grade.
"Dana has worked extremely hard to get here. She is a tremendous athlete and leader. I first coached Dana when she was in 8th grade and she was so fast. She has just kept getting faster and faster," said CAL assistant lacrosse coach, Sean Reding. "She is one of the best athletes to come out of Christian Academy."
Dana's father, Dan Joss, echoed Coach Reding's comments regarding Dana's athleticism.
"Dana has played a lot of sports and is a tremendous athlete. Once she settled on lacrosse, she pursued it with all of her heart. I could talk for hours about how proud we are of her for sticking with it and using her gifts," said Mr. Joss.
Joss was on the Women's Divisional National Team for Indiana/Kentucky her freshman and sophomore year, as well as named "Most Athletic Player" and co-MVP for the Centurion lacrosse team. Dana plans to major in History/Pre-Law at Longwood next year.
Hannah Howes – Softball, Georgetown College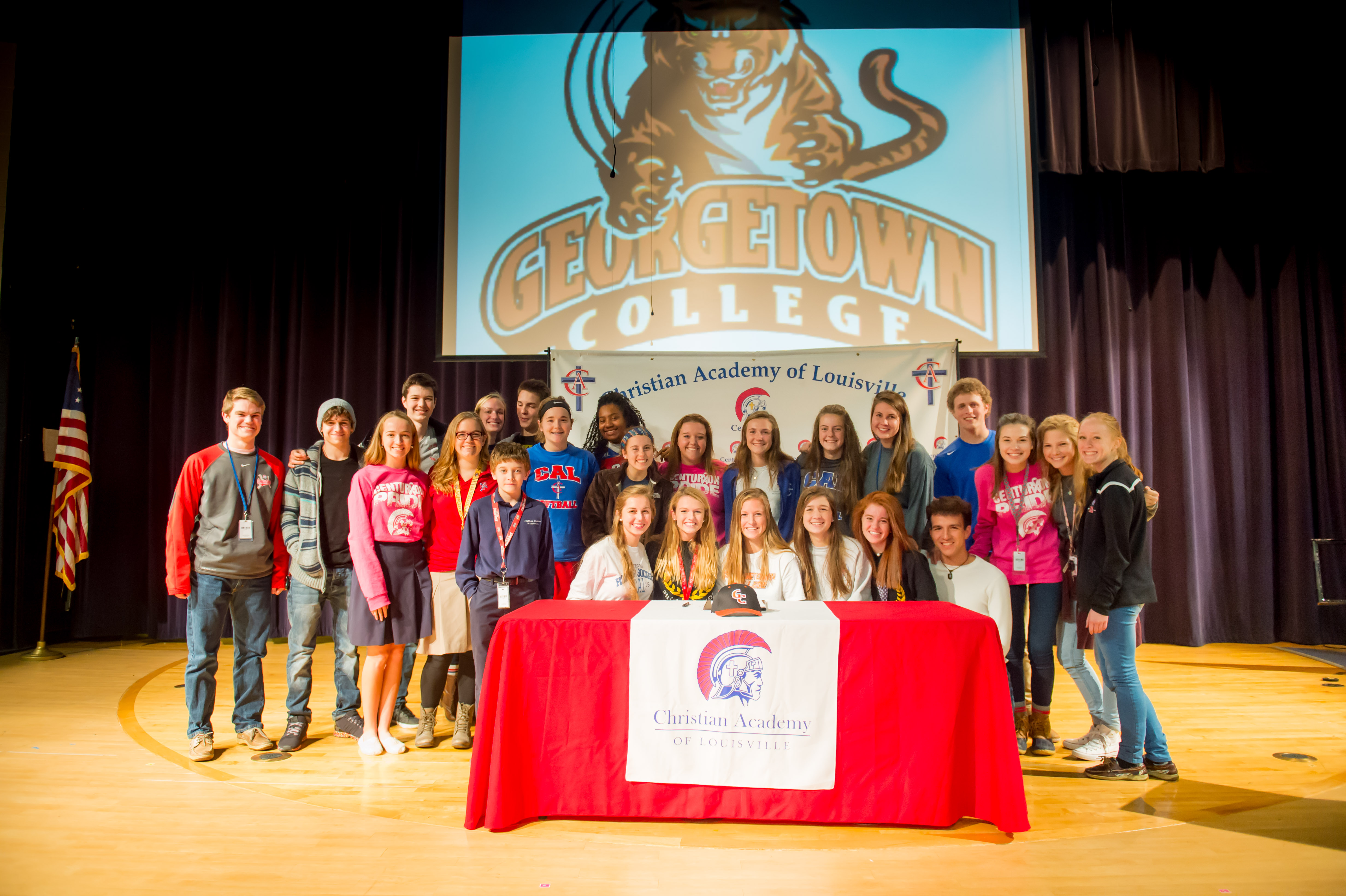 Congratulations to Hannah Howes who signed a letter of intent to play softball at Georgetown College next year.
Friday's signing ceremony was opened in prayer by teammate, Sam Thompson.
Hannah's father, Josh Howes, shared Hannah's journey, and how she has gotten to where she is today.
"Hannah started at a young age as a competitive gymnast. She started playing softball at the age of 12 and started out as catcher. She worked hard to learn the game and eventually ended up playing in the outfield. Her sophomore year, she decided to get serious about her hitting and spent hours upon hours in the cage. Today we celebrate her hard work," said Mr. Howes.
"One word to describe Hannah is unique. Georgetown is getting a great player. She has excelled in the classroom as well as on the field. I wish her the best," said CAL head softball coach, Kyle Mullin.
Howes also made unofficial visits to Ohio University, Ohio Dominican University, Travecca Nazarene University, Taylor University, Union University, West Virginia Wesleyan, and Milligan College.
Hannah concluded the signing ceremony by thanking her travel, hitting and CAL coaches. She also thanked her parents and teammates for supporting her along the way.
Howes was named Academic All-State and was a Region 7 All-Star and is also a member of the Centurion bowling team. Hannah plans to major in Exercise Science and looks forward to playing for the Tigers next fall.
​