Anderson, Marek and Bellamah Highlight Seven All-SAA Selections for @CentreWomensLax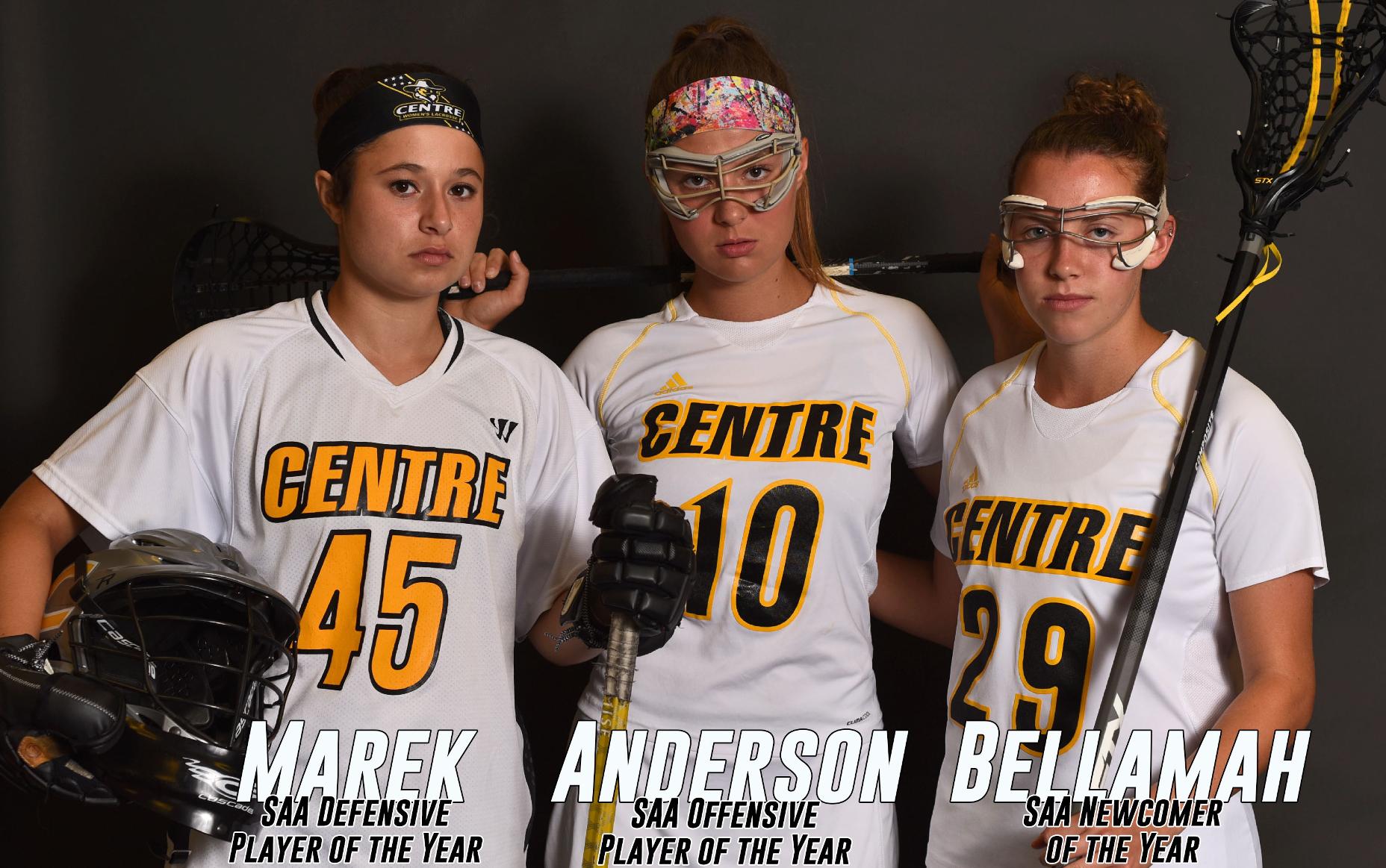 The Southern Athletic Association (SAA) released its 2016 All-Conference team on Tuesday afternoon, with seven Centre women's lacrosse players garnering All-SAA honors. In addition, the Colonels, fresh off their SAA regular season championship and SAA Tournament Championship game appearance, featured three of the four major award winners and five First Team All-SAA performers.
Senior midfielder Jacqueline Anderson (Louisville, Ky.) garnered SAA Offensive Player of the Year recognition, while sophomore goalkeeper Natalie Marek (Louisville, Ky.) was named SAA Defensive Player of the Year and sophomore midfielder Hannah Bellamah (Louisville, Ky.) earned SAA Newcomer of the Year honors. Birmingham Southern's Emily Wetmore was named Coach of the Year.
Anderson, Marek and Bellamah were also recognized on the All-SAA First Team along with junior midfielder Ellen Resinger (Louisville, Ky.) and sophomore defender Haden Gibbons(Chattanooga, Tenn.). Senior attack Andrea Wambaugh (Louisville, Ky.) was a Second Team All-SAA selection and sophomore attack Colleen Jackson (Gaithersburg, Md.) earned Honorable Mention All-SAA accolades.
Anderson caps a stellar four-year career with the Colonels, ranking third all-time in school history with 244 career points. She is now a three-time First Team All-SAA honoree.
The senior paced the SAA with 76 points on the season, including 52 goals and 24 assists. She ranked second in the conference in goals and fifth in assists. She also led the SAA with 114 shots to go along with 28 ground balls, 18 draw controls and 13 caused turnovers.
Anderson tallied at least three goals in 11 of 17 games on the season, highlighted by a six-goal, three-assist performance in Centre's 18-5 victory over Hendrix on April 9. She added three five-goal outputs for the Colonels on the season, as well. The Louisville native finished with seven points, netting three goals to go with a season-high four assists in Centre's 16-2 rout of Hanover on March 8.
2016 SAA Women's Lacrosse Award Winners
Offensive Player of the Year:Jacqueline Anderson (Centre)
Defensive Player of the Year:Natalie Marek (Centre)
Newcomer of the Year:Hannah Bellamah (Centre)
Coach of the Year:Emily Wetmore (Birmingham-Southern)
2016 SAA Women's Lacrosse All-Conference First Team
Goalie (2):Chloe Massoni (BSC),Natalie Marek (Centre)
Attack (3):Amanda Amerson (BSC), Kendall Cunningham (Rhodes), Relly King (Sewanee)
Midfield (6):Katie Gleeson (BSC), Ashley Shepherd (BSC),Jacqueline Anderson (Centre),Hannah Bellamah (Centre),Ellen Resinger (Centre), Ashley Doyle (Rhodes)
Defense (3):Haden Gibbons (Centre), Daly Colarossi (Rhodes), Alexis Crittenden (Sewanee)
Article Posted 5/3/16 http://centrecolonels.com/sports/wlax/2015-16/releases/20160503oxrexv