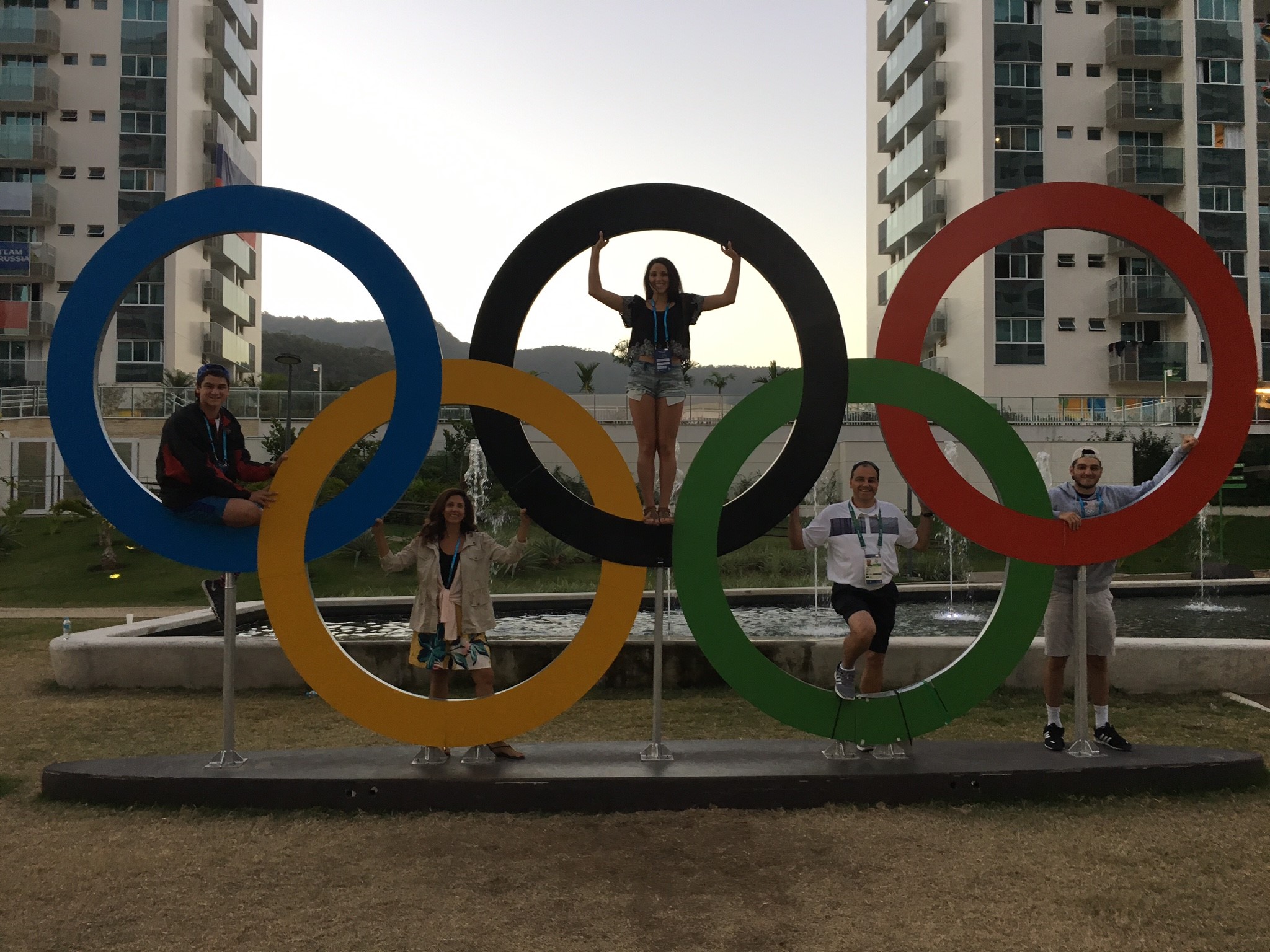 The Albiero family motto could very well be…"The family that swims together, stays together". Arthur and Amy Albiero have been swimming and/or coaching their entire lives. All 5 members of the Albiero family (Arthur, Amy, Estefan, Nicolas and Gabriela) not only have a love for swimming, but God given talents in the sport as well.
Arthur is the head swim coach at the University of Louisville and was also on the Olympic swimming coaching staff for Team USA this year. Albiero trains Kelsi Worrell, who is the only Cardinal swimmer to be an US Olympian. Amy is the head swimming coach at CAL and was also named 2015 Coach of the Year. Estefan graduated from CAL in 2013 and is a senior on the University of Louisville swim team. Both Nick & Gabi won state titles this year. Nick won the 2015 state title in the 100 butterfly and the 100 backstroke. Gabi won the 2015 state title and set a new state record in the 50 freestyle.
The family recently traveled to Rio de Janeiro, Brazil to attend and cheer on patriarch, Arthur, and Team USA at this year's Olympics. This year's summer games had an additional connection to the Albiero's in that Arthur was born in Sao Paulo, Brazil.
While in Rio, the Albiero's attended 13 different Olympic events including swimming, volleyball, tennis, gymnastics, and field hockey. I recently sat down with CAL senior, Nick Albiero, and CAL freshman, Gabi Albiero, about their experience in Rio.
What was your favorite event to watch?
NA: Swimming…I loved watching any Michael Phelps race. I also liked watching the upsets…they were exciting.
GA: Definitely swimming.
NA: I really liked watching the open water swimming too. Team USA was there and it was fun to watch them. We got to meet Kelsi Worrell, Olivia Smoliga and Simone Manual.
What was the overall atmosphere in Rio and at the games like?
NA: It was crazy and chaotic with all the language barriers. There were tons of people. At the events, the atmosphere was electric and hype when Brazil would swim or play.
GA: The first couple of days were overwhelming, but then you got used to it. The transportation was super crowded.
How did you travel while in Brazil?
GA: We mainly rode buses and subways, but we took a train too. We walked a lot!
Were there any events that surprised you?
NA: Weightlifting. I had never seen it before. It was intense. I also liked speed canoeing…I didn't even know it was an Olympic event. They were so fast and worked so hard!
GA: I really like men's field hockey. I guess I enjoyed it because I typically only see women play field hockey.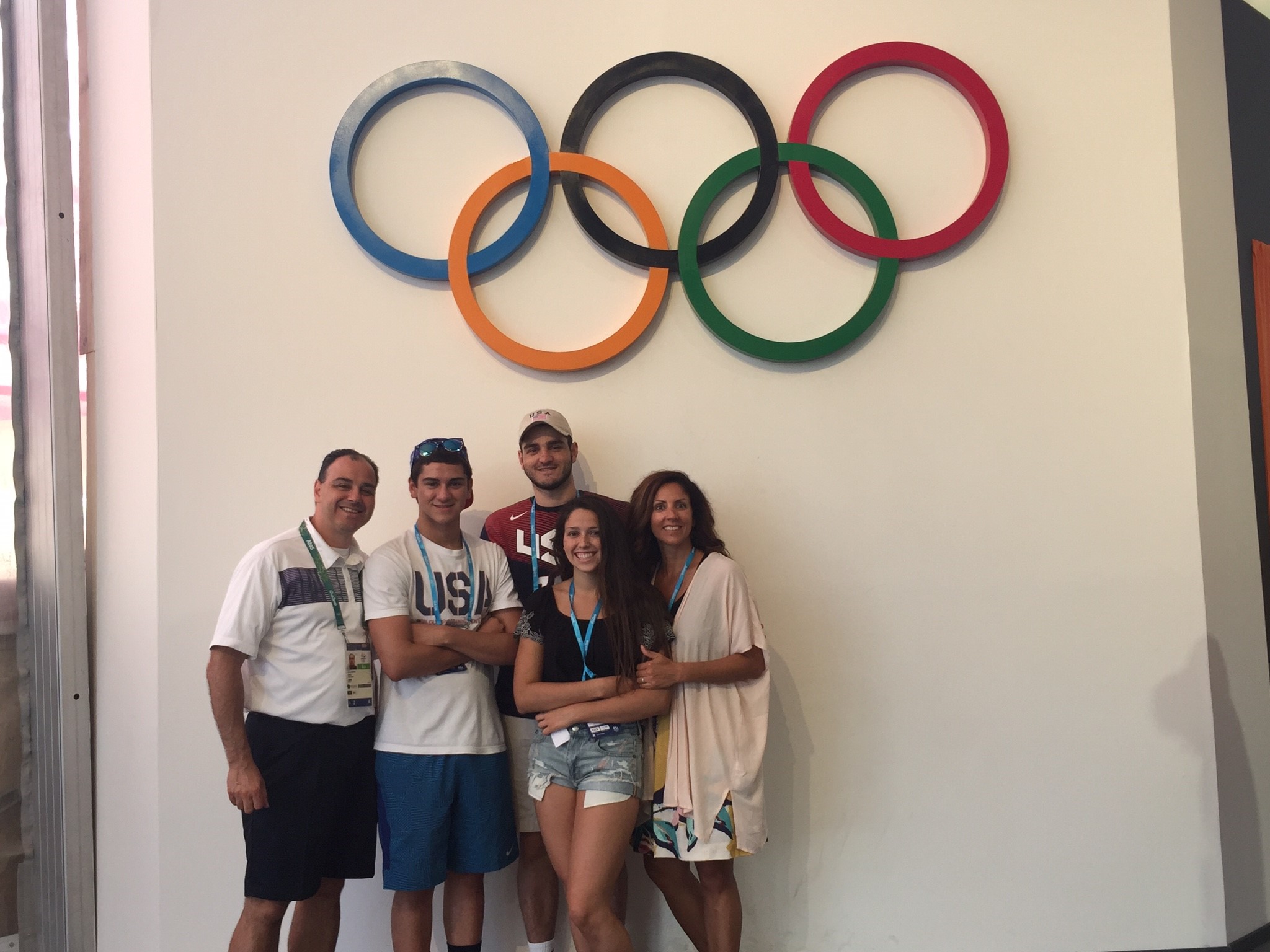 What was the most memorable experience while in Rio?
NA: Really just being with my family. My older brother, Estefan, is in college so we rarely are all 5 together. It was fun going to the different events together and hanging out.
GA: I agree. Just getting to experience the Olympics with my family.
What about the food in Brazil? Any favorites?
GA: I loved Pão de queijo, which are basically these little cheese balls. Bread and cheese were served with every meal and it was so good!
NA: I loved the fruit…especially the mango! You can't find fruit like that here in the US.
Nick, as well as former CAL swimmer and current UL swimmer, Hannah Magnuson, swam in the Olympic Trials this past summer in Omaha, NE.
Nick, tell me about swimming in the Olympic trials?
NA: It has been a goal of mine for a while. It was fun to see people at the trials and then be able to watch them compete in the games in Rio. It was surprising how big the pool was! There was security everywhere and it made me feel kind of feel like a celebrity.
Do you see yourself competing for the Olympics in 4 years?
NA: That is definitely a goal of mine. I am a dual citizen, so I could swim for Brazil or the US which is exciting. I really feel a sense of pride for both countries.
What are your goals for this year?
GA: My goal is to repeat my state title.
NA: I want to break state records and win state as a team. Really to just keep doing what we do best.