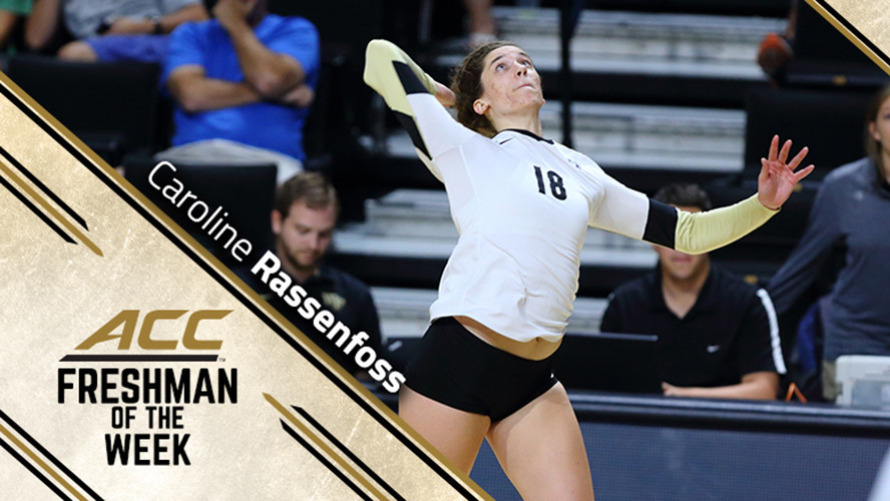 Wake Forest outside hitter Caroline Rassenfoss was named the Freshman of the Week Monday afternoon, the league announced. The outside hitter recorded a career-high 26 kills in a road win against Virginia on Friday.
The award is the Demon Deacons' first weekly award since teammate Caroline Wolf received Co-Player of the Week in October of last season. Kylie Long was the last Demon Deacon to receive the ACC Freshman of the Week accolade when she received the honor in November of 2014.
The Louisville, Ky.-native had a stellar week on offense, recording a career-best 20 kills in the team's ACC-opener against Duke. She then upped her recently set career-best to 26 kills in a 3-1 victory over Virginia. Rassenfoss totaled a .523 attack percentage and three solo blocks in the match as well. She finished the weekend with 46 kills and a .333 hitting percentage while her 26 kills were the most by a Demon Deacon in a single match this season
"'Rass' has been playing a critical role in our team's evolution. She's taking a huge number of swings and getting closer and closer to being a "shut-down blocker," said first-year head coach Bill Ferguson. "It's wonderful to see her recognized for the work she's putting in. She's an extraordinary young woman with a bright future ahead of her and good things ahead. I'm thrilled she's a Deac!"
Rassenfoss has recorded a team-leading 199 kills this season. Her 3.75 kills/set average is good for fifth in the ACC. The freshman also has 18 service aces which leads the Demon Deacons and is positioned eighth in the ACC.
The Deacs continue play on the road this week, taking on Louisville on Friday at 7 p.m. and Notre Dame on Sunday at 1 p.m.
Posted 9-26-16 http://www.wakeforestsports.com/sports/w-volley/spec-rel/092616aaa.html?utm_source=wakeforest.sportsprss.com&utm_medium=referral&utm_campaign=wakeforest.sportsprss.com