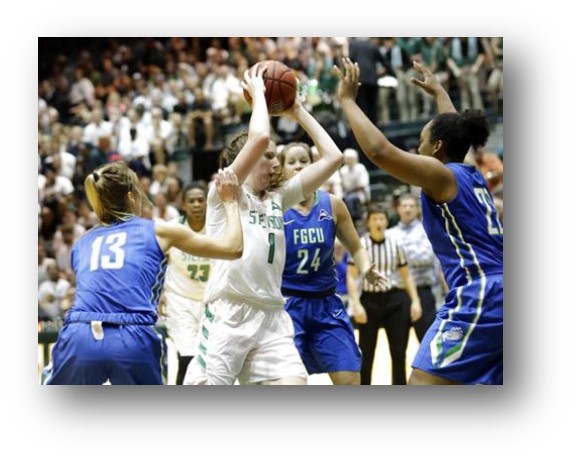 China Dow's shooting slump is over. Way over. Dow came off the bench to score a career-high 31 points and Florida Gulf Coast rallied in the fourth quarter to defeat Atlantic Sun regular-season champion Stetson 77-70 on Sunday and advance to the NCAA Tournament for the fourth time in six seasons.
"Championship game you have to do big moments, do big things," the redshirt junior, who spent two seasons at Middle Tennessee, said. "I didn't want to let my team down. My team boosted me up and gave me confidence."
Dow went 11 of 18 from the field, including 4 of 5 behind the arc and 5 of 6 from the foul line to easily surpass her previous high of 18. She had 19 points in the second half, 10 in the fourth quarter to help the Eagles outscore the Hatters 26-10. She also had 10 rebounds and three steals.
"I have been shooting horrible over the past month but my shot came," she said. "One of the coaches helped me yesterday and I think that's what gave me the boost."
Dow's 3-pointer, following her two free throws, capped an 11-0 run that gave the Eagles a 64-62 lead with 3:46 to play, their first since midway through the second quarter. She also had a 3-pointer and a layup under the two-minute mark, part of an 11-2 run that sealed it.
"She was pretty amazing," Eagle coach Karl Smesko said. "Honestly China has been struggling the last month of the season. She had been playing pretty good basketball up to that time. We were wondering when she would break out."
Second-seeded FGCU made six of its final seven shots while Stetson was 1 of 11 and missed six straight before scoring at the buzzer.
Jordin Alexander added 14 points, nine rebounds and nine assists for the Eagles (26-8). Haley Laughter had 10 points and five rebounds. FGCU had a 41-28 rebounding advantage, 14-2 on the offensive end.
Brianti Saunders had 23 points on 8-of-10 shooting, including five 3s, for the Hatters (26-5). Brittney Chambers had 15 points, making all four of her 3-pointers, but fouled out with 6:21 remaining and her team ahead 62-53.
Stetson led 38-34 at the half behind 16 points from Sanders, who made 5 of 6 shots, including four 3-pointers. Stetson made 8 of 10 long-distance shots and was 14 of 25 overall. Chambers was 3 for 3 behind the arc.
FGCU was 3 of 15 from distance, 14 of 40 overall, going 5:03 without a field goal and making just 1 of its last 11 shots. The Eagles stayed in the game with a 10-0 difference in offensive rebounding and forcing 10 turnovers.
Article Posted 3-12-17 http://bigstory.ap.org/article/c430dcb5da39409d95a3bbb005e86445/dow-carries-fgcu-sun-womens-title-77-70-over-stetson