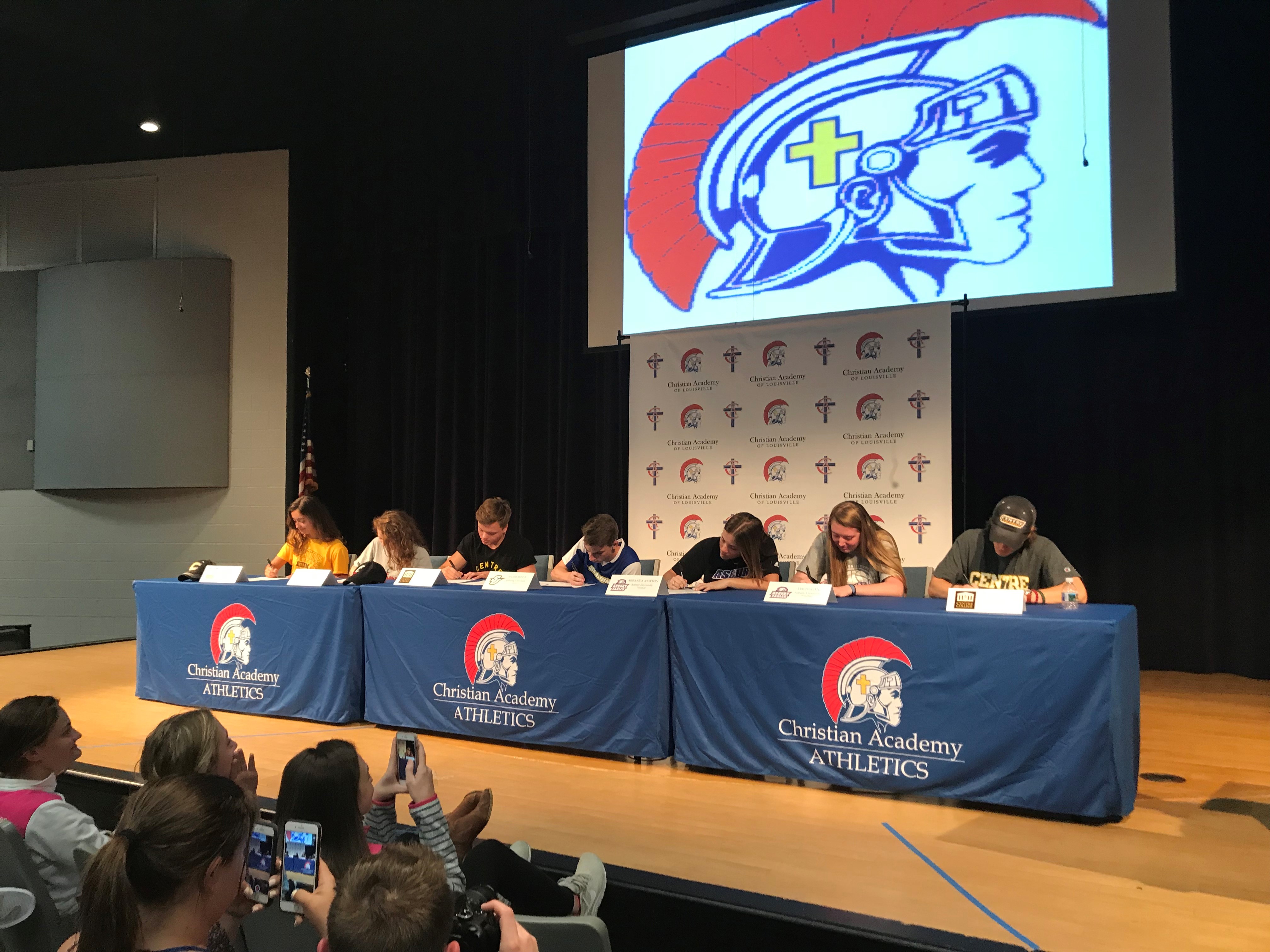 Congratulations to senior athletes, Caleb Anderson, Asher Benge, Lee Hagan, Miranda Newton, Madalyn O'Dea, Sloan Reding and Henry VanderToll all signed letters of intent on Wednesday to play at the collegiate level.
The signing ceremony was opened in prayer by principal, Larry Wooldridge. CAL Director of Athletics, Brad Morgan, emceed the ceremony and offered congratulations on behalf of the school and athletic department.
"It takes tremendous time and hard work to reach this point," said AD Morgan. "Very few athletes make it to this day and get to participate in college athletics. God has blessed Christian Academy with not only tremendous athletes, but Godly young men and women. We are extremely proud of all of you."
Each athlete was recognized by their coach who shared past accomplishments and struggles to get to this day. Parents shared stories about years of playing their sport, while the athletes thanked parents, teammates, coaches and friends for their support. Many of them acknowledged the time and commitment by their parents to get them to this level.
"Today is a day of great celebration but also a chance for us to reflect back on all the hard work and sacrifice of each of these athletes and their families," said AD Morgan. "I want to thank these parents for trusting Christian Academy to spend so much time with your child. We have been blessed to be a small part of their success."
The ceremony concluded with all 7 athletes officially signing letters of intent to the following schools:
Caleb Anderson (lacrosse) – Centre College
Asher Benge (soccer) – Spalding University
Lee Hagan (basketball) – Asbury University
Miranda Newton (volleyball) – Asbury University
Madalyn O'Dea (cross country/track) – University of Cincinnati
Sloan Reding (lacrosse) – Centre College
Henry VanderToll (swimming) – Centre College