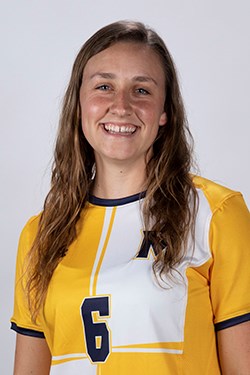 Laura English, a four-year starter at defender for The Master's University women's soccer team, was selected to the CoSIDA Academic All-District team earlier this month.
Athletes were chosen for their combined performances on the field and in the classroom. English was among 11 NAIA selections from a district that encompassed 15 states and Canada.
"It's such an honor," English, a liberal studies major, said Monday. "God has blessed me with the opportunity to work hard on and off the field and to find success. I'm thankful for my professors and coaches who have made it possible for me to grow in the classroom and on the field."
Athletes needed at least a 3.3 GPA to be considered for the award, but their on-field accomplishments were also taken into consideration when reducing the group down to 11. English started 21 of TMU's 22 games this season, helping Master's reach the NAIA national tournament for the fourth time in the last seven years. She made 72 starts in her Mustang career.
"Laura has demonstrated a high level of Christian character her whole time here," said Master's head coach Curtis Lewis. "She has served the team in so many different ways."
Many of English's starts came alongside fellow senior Kayla Peterson, who echoed Lewis' sentiments.
"She's someone we've all seen work so hard on field and off the field," Peterson said of English. "She's been such a testimony to grinding it out. She's never let anything hold her back from performing to the best of her abilities."
This season, the Mustangs reached the semifinals of the Golden State Athletic Conference tournament before earning an at-large berth to NAIA nationals.
Master's took down Truett McConnell University in the first stage of the NAIA Opening Round in West Palm Beach, Florida, on Friday. But the Mustangs ultimately saw their season end Saturday against Keiser University, the tournament's No. 2 overall seed.
Still, English was left with many positive memories.
"I'll remember the times with my teammates most," she said. "Whether we were on the field grinding out a tough practice or a game, praying and worshiping together or just hanging out, I was always encouraged and challenged by the girls. Every time I was with the team, I was reminded of God's love and what an incredible opportunity I had to play at Master's."
As for the CoSIDA Academic All-District award, English and 10 other NAIA players were selected from a region that included Alaska, Arizona, California, Colorado, Hawaii, Idaho, Montana, New Mexico, Nevada, Oklahoma, Oregon, Texas, Utah, Washington, Wyoming and Canada. It was the latest academic achievement for English, who was a GSAC Scholar-Athlete as both a junior and a senior. She was also an NAIA Scholar-Athlete as a junior and will earn the honor again when it is released at the end of this school year.
English was also on the ballot for the CoSIDA Academic All-America team, which will be released in early December.
Laura is a 2016 CAL Graduate.
Article posted 11-25-19 https://gomustangs.com/news/2019/11/25/womens-soccer-masters-senior-laura-english-named-to-cosida-academic-all-district-team.aspx