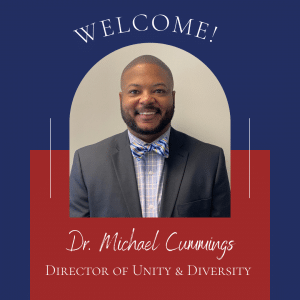 After a regional search, multiple interviews and a lot of prayers we are excited to announce Dr. Michael Cummings as our new Director of Unity and Diversity. A position that we first discussed three years ago has finally come to fruition.
The goal of the work of this position is to help build upon our school environment where all are respected, valued and appreciated while using our mission statement to work alongside others to help create a diverse community. The Director of Unity and Diversity is identified as a spiritual mentor and a resource for all students, teachers, administrators and parents in the school system.
Dr. Cummings brings a wealth of experience, a diverse background and most importantly a love of the Lord to our school system. His educational background includes a Bachelor's degree in Human Resources and Organizational Management and a Master's degree and Doctorate in Religious Studies from Milligan University. His most recent work experience is as Director of Diversity working with regional companies with a focus on talent acquisition and human resources support. He has served as the Senior Pastor of a local congregation in east Tennessee for the past 16 years. He has also led and served on multiple international mission trips to Central America, South America and Africa. Lastly, he has experience working with local school districts as a resource in developing, instructing and facilitating STEM programming for K-12 students.
Dr. Cummings will be visiting all of our campuses to meet teachers and students while becoming familiar with our school cultures and our love for Kingdom building through education. It will take him some time but he would like to also meet as many parents as possible. If you have any questions, feel free to reach out to him at mcummings@caschools.us or if you see him at one of the campuses or a ballgame/concert please introduce yourself.
Please keep him and his family in your prayers during this time of transition!