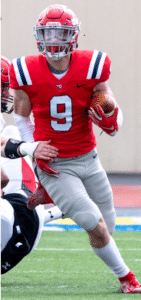 Four University of Dayton football players — running back Jake Chisholm, safety Brandon Easterling, linebacker Ben Schmiesing and cornerback Elijah Smith – were named today to the Academic All-District 5 team, as selected by CoSIDA.
All four will appear on the ballot for the All-America team this year.
Dayton's four All-District selections were the most in the Pioneer Football League.  Presbyterian had two, while Drake, Marist and Valparaiso each had one.
A junior pre-med major with a 3.98 GPA, Chisholm is a two-time CoSIDA Academic All-American.  He currently leads FCS football in carries (235) and is tied for best in FCS in touchdowns (18).  He is second nationally in all-purpose yardage per game (163.9).
Easterling is a 2019 First Team All-American who is currently second in the PFL in tackles per game (9.3).  He carries a 3.46 GPA in management information systems with a minor in Cybersecurity.  Easterling is a two-time semifinalist for the National Football Foundation's Campbell Trophy.
Schmiesing is in his first year in Dayton MBA program.  A former walk-on at Ohio State, he graduated in three years with a 3.95 GPA in business from OSU.   He is third for UD and ninth in the PFL in tackles per game (7.4) after moving into the starting lineup mid-year.
Smith is a business economics major with a 3.96 GPA.  A first-year starter, he played in all 10 game this season.  He had 37 tackles (29 solo) with two interceptions and four pass break ups.

The Flyers finished the year 6-4 overall and 5-3 in the PFL.  It was the 42nd time in the last 44 seasons UD had a winning record.
Published on 11-18-21 https://daytonflyers.com/news/2021/11/18/four-flyers-named-football-cosida-academic-all-district.aspx