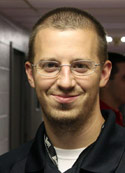 CAL welcomes Brad Morgan as the new Assistant Athletic Director for the Christian Academy of Louisville School System Kentucky Campuses.
Morgan has been the Athletic Director of Beth Haven Christian School in Louisville for the last five years. He also was the Head Boys' Basketball Coach for eight years, compiling a 120-90 record with two LIT appearances and was selected the 6th Region Coach of the Year in 2010.
"As a coach and athletic director in Louisville, I have always admired that CAL strives for excellence in education and athletics, not only professionally, but also spiritually in representing Christ," said Morgan. "I am excited to join in and help spread His message through this opportunity in the athletic department."
Director of Athletics Darin Long said, "It is going to be tough replacing Kevin Bowers, but we are excited for him in his next ministry. To be able to hire Brad Morgan as the next Assistant AD is a huge blessing. Brad will make an immediate impact for CAL."
Morgan played for the University of Louisville basketball team in 2000-2001 before transferring to Western Kentucky University where he graduated with a Bachelors of Arts in Interdisciplinary Studies. He is married to his high school sweetheart Holly, and has two beautiful children. The Morgan's are members of Little Flock Baptist Church where they serve in the children's ministry.