Dear Christian Academy Families:
Christian Academy is blessed to be able to offer English Station, Rock Creek, and Southwest students an intramural athletic program for 2nd-5th grades. This is possible because of the level of participation by students and the high involvement of parent volunteers. There are many benefits to being involved in athletics including good health, social interaction, self-confidence, and personal accomplishment. Our goal is to always be Christ-honoring while learning the sport and competing. Below are our fall 2013 athletic offerings: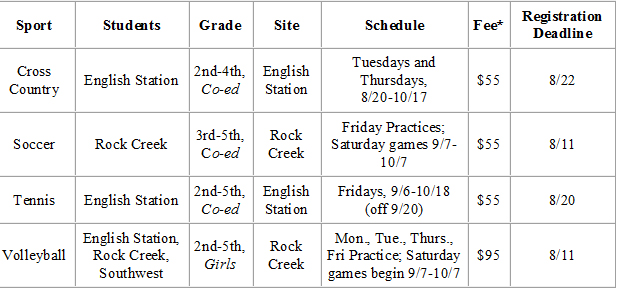 * Pricing includes uniforms, court rental, referee fees, balls, equipment, trophies, etc.
Click here for more details on the sports offered.
Please follow the instructions below for your registration.
1. Click here to register.
2. Click Sign In.
3. Enter the user name and password you created when you previously reenrolled or confirmed your student. (If you do not remember your user name or password, click Forgot User Name/Password?An e-mail will be generated so that you may reset your password. After doing so, you will need to Sign Out, close your browser, and begin at step one again to be linked to the fall sports registration.
4. Click Students on the menu at the left.
5. Complete the "Fall Intramural Sports Form" for all students interested in playing a fall intramural sport before paying the fee(s).
6. Click the Start link for the "Fall Intramural Sports Fee". (You will be able to make payment for all students at the same time.)
Note for Mac users with Safari:
Go to the Safari drop-down menu.
Select Preferences.
Click Security in the top panel.
Under Accept Cookies select the option Always.
The online registration process has been designed to be quick and easy. If you have any problems or questions, please reply to this email or call the Athletic Office at 502-244-3225.
God Bless!
Brad Morgan
Assistant Athletic Director
Christian Academy School System
Kentucky Campuses
502-244-3225, ex. 1072
502-244-3193 Fax
www.caschools.us
bmorgan@caschools.us