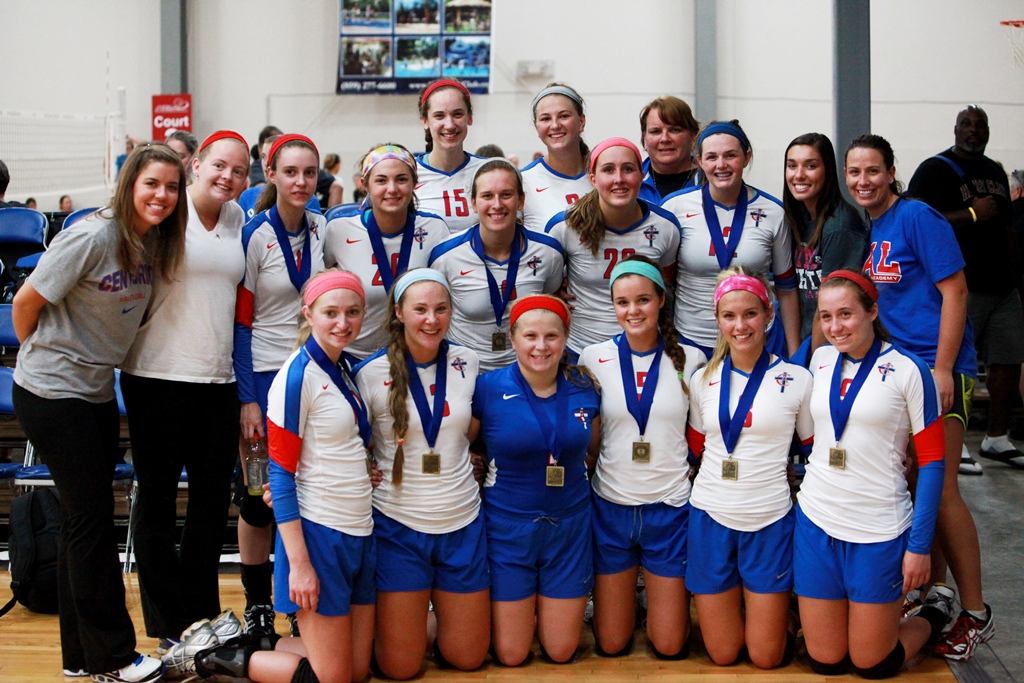 "I have been really impressed by how hard these ladies work during practice. They get along both on and off the court which makes for a fun, focused team working toward one goal – to win" says Coach Patty Ernst, and win they have in pre-season play.
After daily two-a-day practices and conditioning since mid-July, the team headed off to Lexington to play in the Blue Grass Games, August 3-5. Over three days of play, they won eight of nine matches. The team was able to overcome: E-Town, Clark County, University High, Hopkinsville, Scott High, Betsy Layne, Boone County, and last year's tournament runner-up, Henry Clay. The team only dropped one match all weekend to Oldham County HS. In the end, the Centurions won the gold medal in Flight 2. Since then, the team has also showed their stuff in successful scrimmages against E-Town and Whitefield.
The 14 hard-working girls of this year's team are: four Seniors, Kendall Bloomquist, Alisha Mitchell, and Alissa Turner; Connor Cook, Team Manager; three Juniors, Erica Heetderks, Juliann Parrish, and Rachel Amin; a half-dozen Sophomores, Caroline Rassenfoss, Kasey Wilmsmeyer, Abby Davis, Katie Amin, Hadley Trenaman, and Jill Von Hoven; and one Freshman, Lindsey Bray.
Coach Patty Ernst is in her fifth year at CAL and her second year as Head Coach. She is also the Director of Volleyball Operations at MidAmerica Sports Club.
The official season starts this week Come see the team play at Male on Monday night and, in what's sure to be a really tough match, at home against nationally-ranked Mercy on Tuesday night.