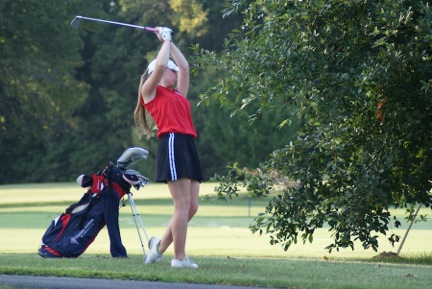 In what could be considered a light week of golf action, the competition that faced the CAL Girls Varsity Golf team couldn't be taken lightly…with big regional match-ups against perennial foe Sacred Heart and Martha Layne Collins H.S. (Shelbyville).
In the end, the Lady Centurions added two more important match victories to their total and continue to improve as we enter the second half of the season and a push toward regionals. On Tuesday, the CAL lineup of Sarah Son (Jr), Abby Stivers (Jr), Carly Clements(Jr), Delaney Wilson (Fr) and Emily Neat (So) were fired up to take on Sacred Heart Academy at Vettiner Golf Course on a hot and steamy afternoon. The Valkyries seem to win every tournament they enter, but on this day, their biggest mistake was not bringing their best team to the match, possibly overlooking the team that they're used to getting the better of. Junior Sarah Son continued her hot streak with another fantastic 39 and was backed up by a strong 43 by fellow junior Abby Stivers and a 46 by Carly Clements. Freshman Delaney Wilson also turned in one of her best nines of the season and helped secure the 178-185 victory over Sacred Heart.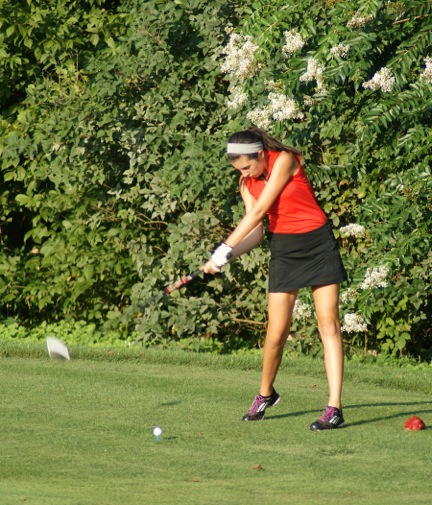 On Thursday, we travelled to Shelbyville to take on Collins at Shelbyville Country Club on yet another blistering afternoon. The team played well at times, yet struggled on a very unfamiliar course with trouble lurking around every bend and hill. Again we were led by junior Sarah Son and a repeat 39 as she continues to ride a hot streak. Junior Carly Clements posted an all-important 45 that was key to the 195-200 victory over Collins. Abby Stivers rebounded from a rough start to finish 1-over par over the last 3 holes thanks to a chip-in birdie on hole #8. Delaney Wilson and Emily Neat played strong supporting roles and continued to work hard toward a strong showing at regionals next month. Junior McKenzie Robinson also saw her first on-course action of the year.
A short school week this week will be used for skills practice and a practice round at Henry County Country Club, the site of this years regional tourney. On Thursday, the Lady Centurions will take on Oldham County at Long Run.