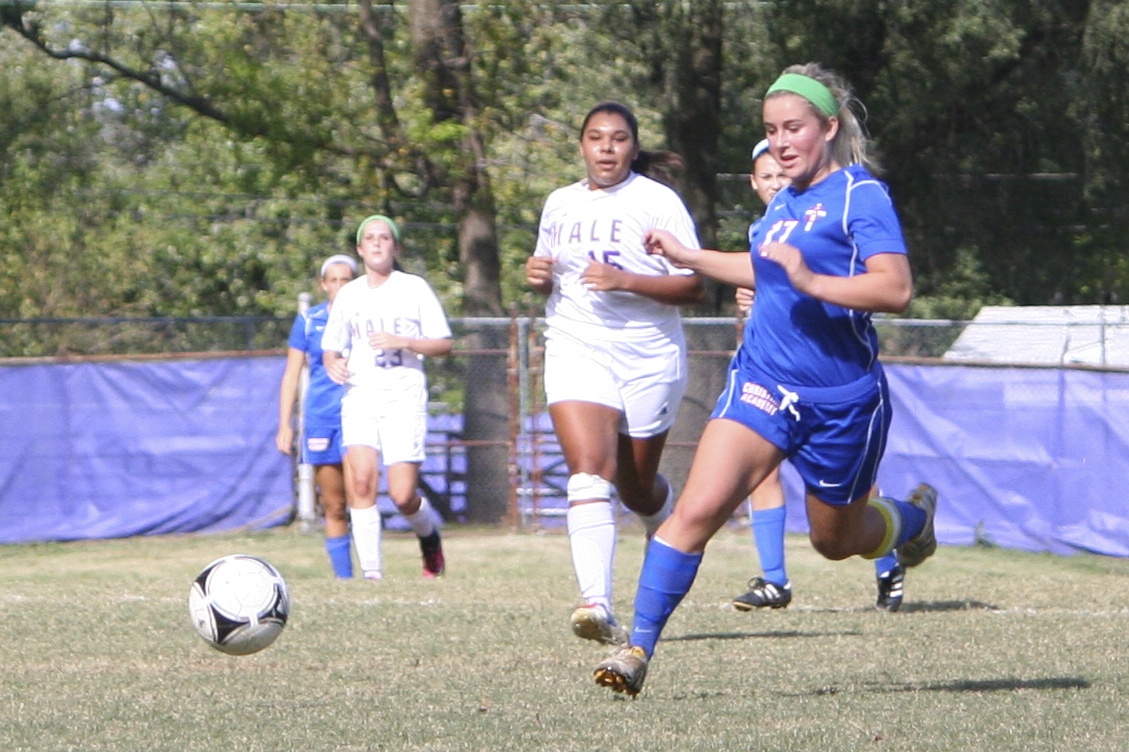 The CAL girls' varsity soccer team won the Male Bulldog Cup this past week with resounding victories over Mercy, Central Hardin and Male! Kenzie Dannelly, Erin Scheiter and Molly Andres were named to the all-tournament team.
CAL 1 Mercy 0
Senior co-captain Annie Beanblossom, back in the lineup following an injury week off, led the CAL girls to another great team defensive effort along with Sophie Schulz, Corinne Warlick, Laura English and goalie Molly Andres to record their third shutout this season in Tuesday's 1-0 victory over rival Mercy. Nifty and nimble Megan Mintman and Erin Scheiter deftly handled the ball through the middle to initiate numerous scoring opportunities and Megan capped her performance by stuffing in a rebound off Faith Shepherd's shot at 29:10 in the second half for the game's only goal. CAL dominated ball control for most of the game and outshot Mercy by a wide margin with great shots by Haleigh Fortuna, Kenzie Dannelly, Megan, Erin Scheiter and several other CAL players. The girls played very hard all night and their work rate and effort was fantastic.
CAL 2 Central Hardin 1
Senior co-captain Kenzie Dannelly sparked CAL to their second victory of the week in the Male Bulldog Cup, a 2-1 win over Central Hardin, and a berth in Saturday's Cup Championship game. The first half was mostly back and forth with neither side gaining advantage until Dana Joss hit a hard strike off the left post at 9:30. Kenzie hit the same post at 2:30, but the half ended 0-0. CAL came out strong in the second half with numerous excellent shots on goal in the first five minutes, including a free kick by Annie Beanblossom, a chance by Haleigh Fortuna and a sharp strike by Kenzie. Finally, at 30:18 left in the game Kenzie collected a long pass, dribbled around a defender and then smoked a shot screaming past the CH goalie into the net for a 1-0 CAL lead. Central Hardin responded swiftly, knotting the score at 1-1 just one minute later off a corner. At 26:08, Kenzie lofted a long, beautiful diagonal ball to a streaking Dana Joss on the right side who broke free of the goalie, spun back and chipped the ball into goal. CAL 2-1!!! The next 26 minutes displayed an intense defensive struggle in which CAL's back line turned away every CH attempt. On to Saturday's championship game!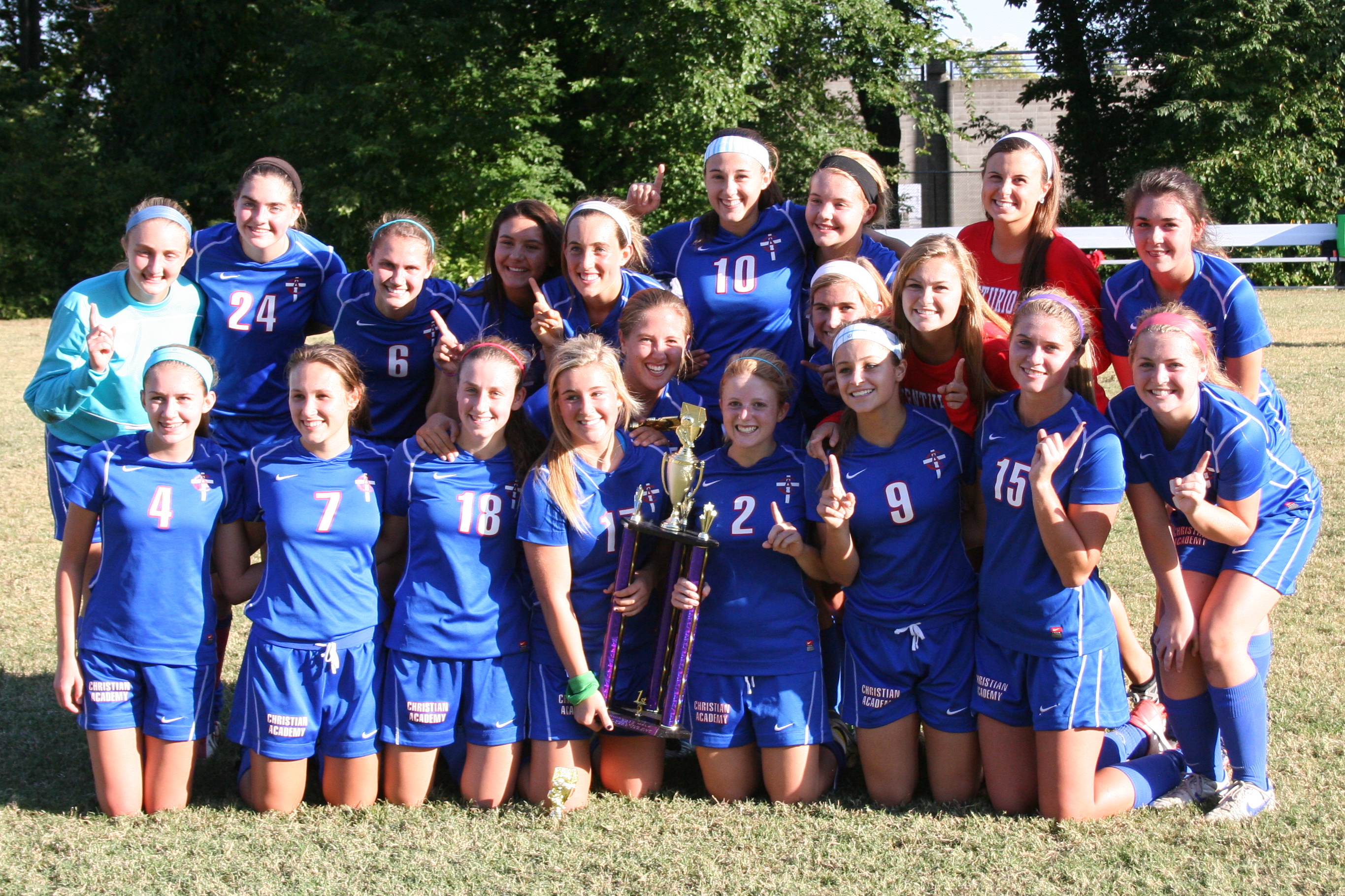 CAL 3 Male 1 ; A Tale of Two Half's
Our CAL girls' team started the first half on a high following the previous night's homecoming football game victory. But, Male slipped through for a surprising goal at 25:15 to take a 1-0 lead. The team slumped a bit after falling behind, and the first half ended at Male 1 CAL 0.
Whatever Coach Zutt told them at half-time worked well! CAL came out with tremendous zip and energy to start the second 40 minutes. Just four minutes in, at 36:08, Haleigh Fortuna cruised down the right side and hammered a shot home to level the score at 1-1! Erin Scheiter dominated the middle with power and force and kept advancing ball after ball with strong kicks. Megan Mintman played tough in the middle and even a few minutes at forward. Then, at 17:40 Kenzie Dannelly broke free on the left side, dribbling more than half the field before unleashing a screaming shot past the goalie for a CAL 2-1 lead that was never relinquished. Everyone got in the act during this game. Abby Benge played solid in the back line in relief of Corinne Warlick who played her normal tough and error-free game. Seniors Annie Beanblossom and Sophie Schulz and Sophomore Laura English stood firm in the face of Male second-half counterattacks, turning away all runs. Outside midfielders Faith Shepherd, Dana Joss along with Olivia Ashby and Nicole Athanasakes maintained forward pressure on Male's defense all day, while ably falling back to help defend with the back line. Cassidy Bennett and Sara Quinton provided plenty of quality plays to cheer in the second half. To top off the victory Liana Forwith flicked a perfect header forward to Haleigh who broke free with her second goal of the day to make it 3-1 CAL!
Coach Zutt commented that he encouraged the girls at the half to keep playing hard, because there were "still 40 minutes to go" and that "things will break our way". Boy, was he right. "I'm very proud of what the girls accomplished as a team this week" said Coach Zutt. With the win, CAL improved their record to 7-3-1 on the year.
There is little time to celebrate the Bulldog Cup victory. Monday night, CAL plays last year's Regional Champion, Assumption, at CAL. Game time is 7:30 pm. It will be a fantastic game and evening of soccer so come out and cheer on the girls!!