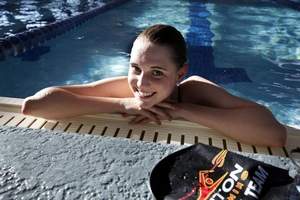 Louisville swim team lands Trinity's Thomas Cooper, CAL's Hannah Magnuson and Sacred Heart's Ashley LeClair
Three of the city's top high school senior swimmers recently committed to the University of Louisville.
Trinity's Thomas Cooper committed the men's program, and Christian Academy's Hannah Magnuson and Sacred Heart's Ashley LeClair will swim for the women's team.
"It's great for (U of L coach Arthur Albiero), and it's great for the city," Sacred Heart coach Jim Luebbe said. "Sometimes it's hard to keep kids in the city because they want to go out and experience new things and new places. It says a lot about Arthur and the job he's doing with the program."
All three swimmers won state titles as juniors last season. Cooper won the 100-yard butterfly and also set the state record of 44.71 seconds in the 100 freestyle as a sophomore. Magnuson won the 100 butterfly and was second in the 100 backstroke. LeClair helped Sacred Heart win the 200 and 400 free relays and finished fifth in the 50 and 100 freestyles.
Swimming twins Madison and Chandler Lichtefeld announced their college choices. Sacred Heart's Madison Lichtefeld is headed to Georgia Southern, and her Trinity brother picked Emory.
Article posted 10-24-13 http://www.courier-journal.com/article/20131024/SPORTS05/310240082/Trio-state-champion-swimmers-commit-stay-home-swim-Louisville?nclick_check=1