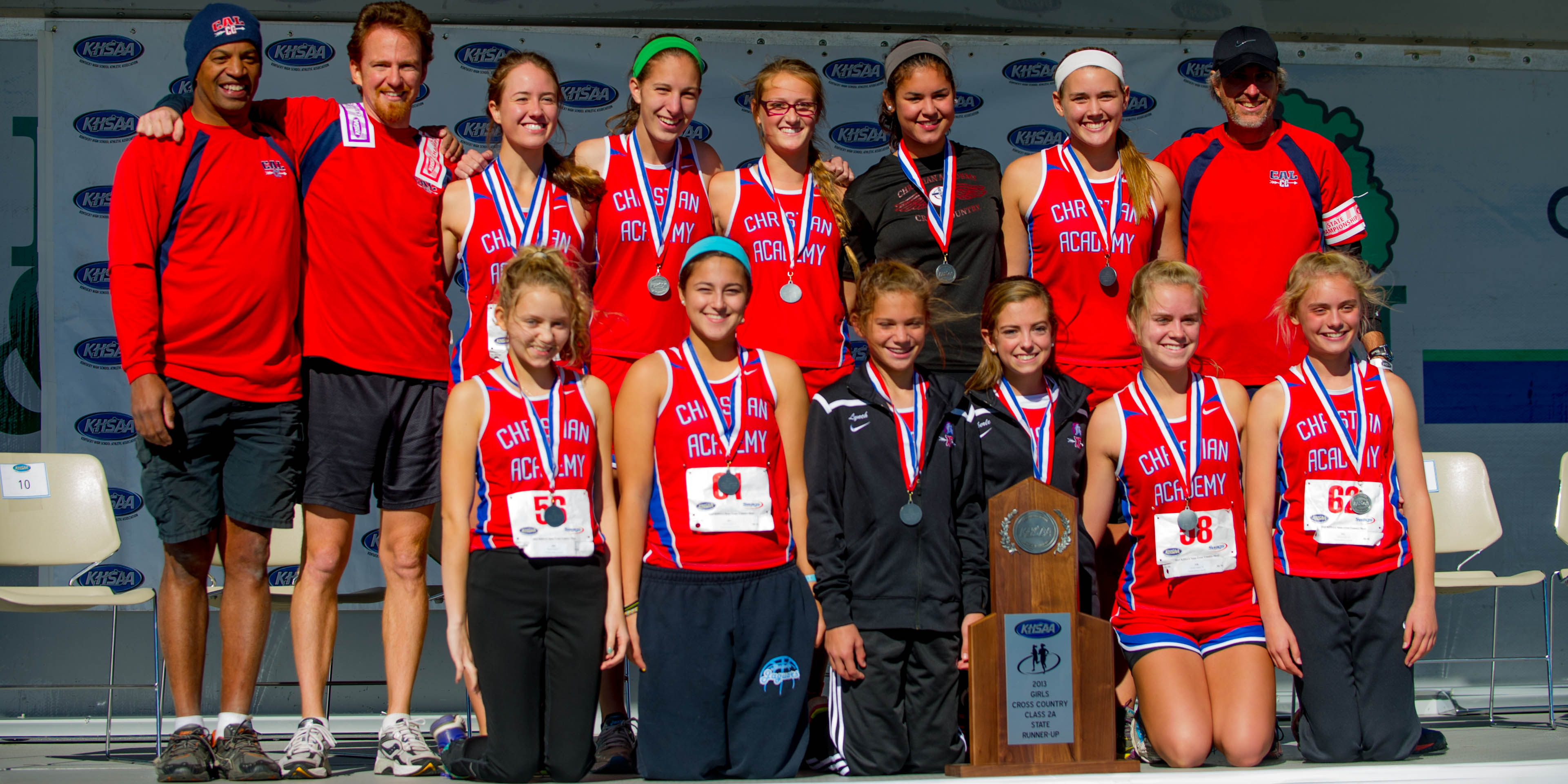 The Lady Centurions overcame a season of adversity to race away to a State Runner-up title, in the Kentucky Cross Country State Championships. The 2013 season was marked by injuries, pain and illness. But the team kept working and adjusting as needed, to score the school's highest State placing.
After finishing a very close 3 points to North Oldham in last week's Regional, the team was feeling confident of a strong State finish, as Christin Eckerle was expectedto come back from her stress fracture at the beginning of the week. But news came Monday, that Christin would not be ready for another 2 weeks. Still, the team was hopeful, even though themargin for error had shrunk. Fridayafternoon, the team previewed the course and all felt ready.That was untiltop runner Hannah Herd came down with a 101 degree fever. But the daughter of a sixth generation soldier, would not be denied. Not onlywas she able to racethe next morning, but she earned All-State honors with her 10th place finish. Running right alongside of her, was outstanding freshman Clara Lynch, who finished one spot behind, to also earn All-State honors. Halfway through the race, all therunners needed to move up significantly to find a place on the awards podium.Every Lady Centurion did just that, with all of the top 5 runners moving up 20 or more places throughout the race. Callie Donaldson who has really come on strongin the last part of the season, continued that trend to finish 31st. First year runners Candace Putlak and Kenzie Stovall,rounded out the team score at 154 points, topush Christian Academy 24 points ahead of North Oldham, to secure 2nd place todefendingState Champion Highlands. Caroline Hughes and Maddie Luette also ran well for the team. Joining the team withsilver State Runner-up team medals around their necks on thepodium, were alternates: Christin Eckerle, Katlin Mingari, Savanna Hatfield and Taylor Ross.It was a great way to end a season, demanding so much perseverance. The exciting thing is that all, but Taylor will be back for another run to the podium.
The boys team alsohad a nice finish to the season,with a 7th place team finish,improving on their regular season #8 state ranking. The teamimplemented two tight packs, to earn Christian Academy's second consecutive top 10 State finish.The five seniors on theRegional/State entry, decided to leave their mark on the cross countryprogram by takingall thescoring positions for the Centurions. Conner Cloyd, AustinSchaper, Eric Lesmeister and Caleb Pryor blanketed the finish between 18:10-18:16, on the challenging Horse Park course. That 6 second window was matched by the remaining Christian Academy runner, as senior Dominic D'Ettorre, led juniors Adam Waggener and AndrewSitlinger,to times between 18:38-18:44. Alternates Casey Diamond, Alex Curry and Michael Good, were also readyto run if needed. Looking to next season,the return of last year's top runner AJ Ross,who was lost for the entire season for injury, along with the other underclassmen, the team is poised for another top 10.