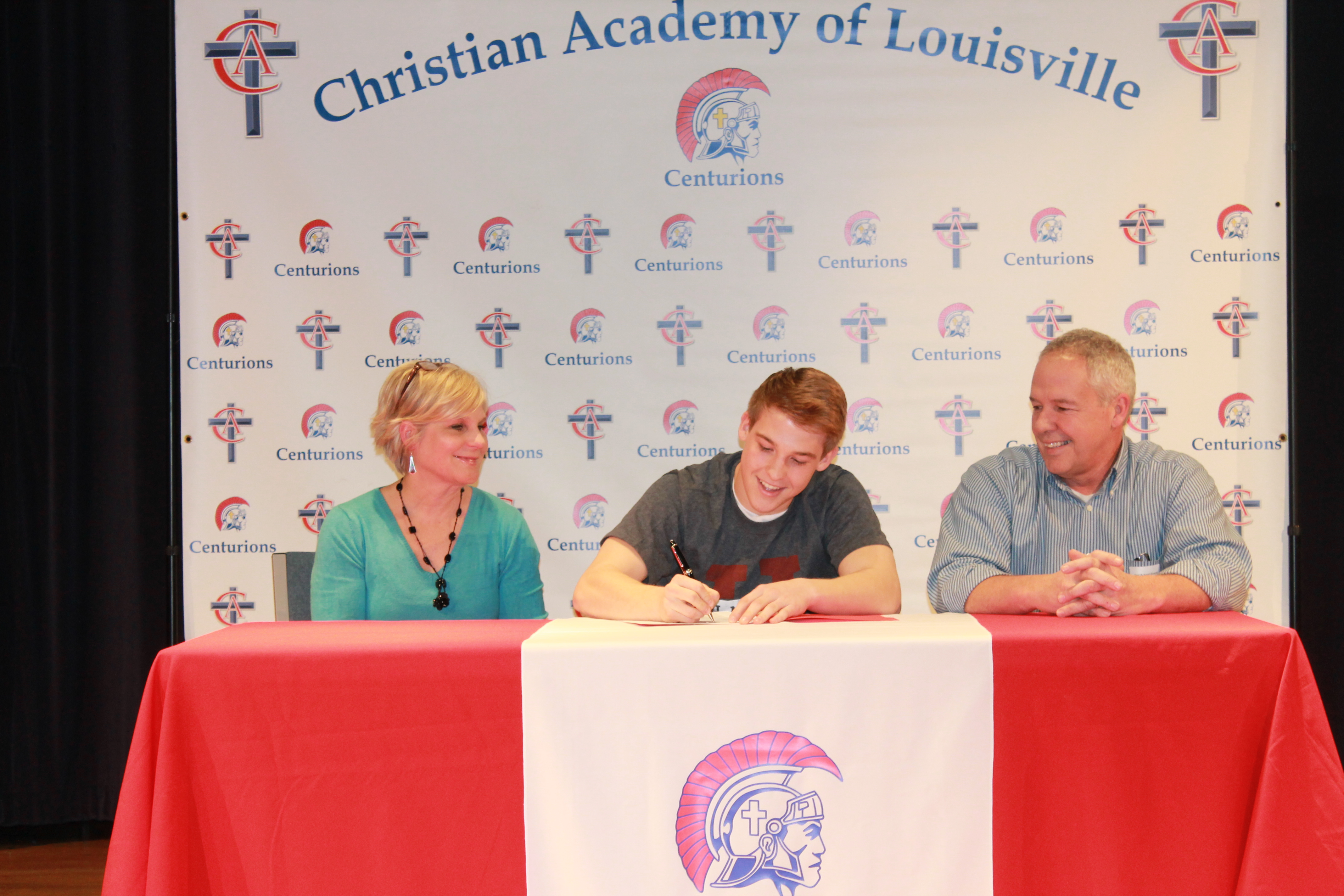 On Thursday, senior Kyle Yeoman, signed a letter of intent to play soccer at Union University in Jackson, Tennessee. Yeoman came to CAL as a sophomore and plays soccer and runs track for the Centurions. He is also a member of the Louisville club soccer team, River City Rovers.
"It is an honor to share this moment with Kyle and his family. Kyle likes to have fun yet never loses perspective. Kyle consistently gives his all when playing soccer. He has the unique ability to win with class, go through tough times with class, and come back even tougher," said CAL head boys' soccer coach, Doug Lucas.
Assistant coach, Brian Swanson is a 2009 CAL graduate and played soccer for the Centurions before going on to play at Georgetown College.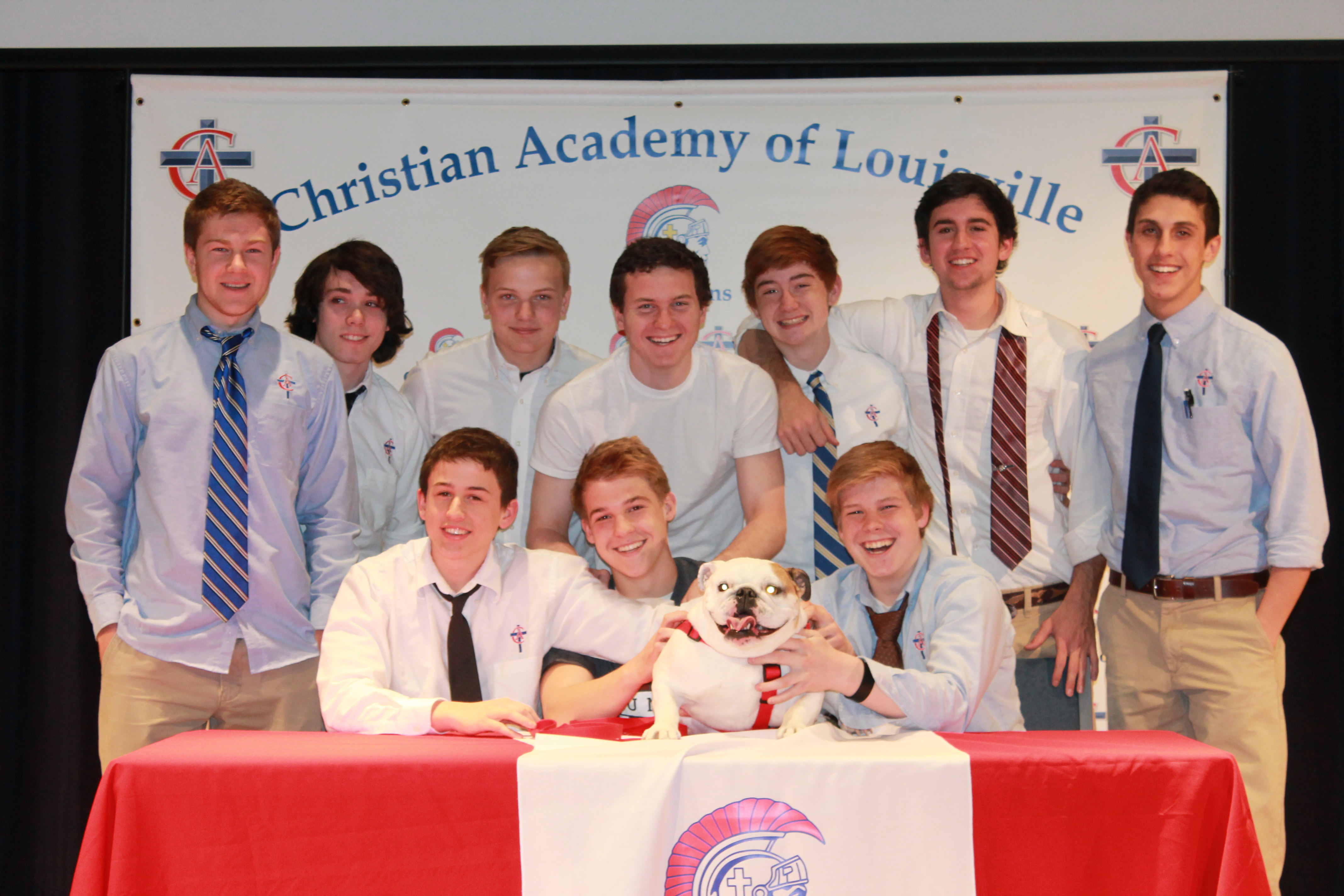 "Not everyone is blessed with the opportunity to play soccer in college. It will go by quickly so be sure to enjoy it," said Coach Swanson. "Kyle is a determined player with a God given talent. It has been an honor to watch and coach him."
Kyle was a 2 year varsity starter as well as team captain for the Centurions. He was named to the 2014 All District and All-Region teams. Kyle chose Union because of the environment, soccer coaching staff, and high academic standards. He plans to major in business and looks forward to playing for the Bulldogs next fall.
LINDSEY DUNN SIGNS TO PLAY SOCCER AT GEORGETOWN COLLEGE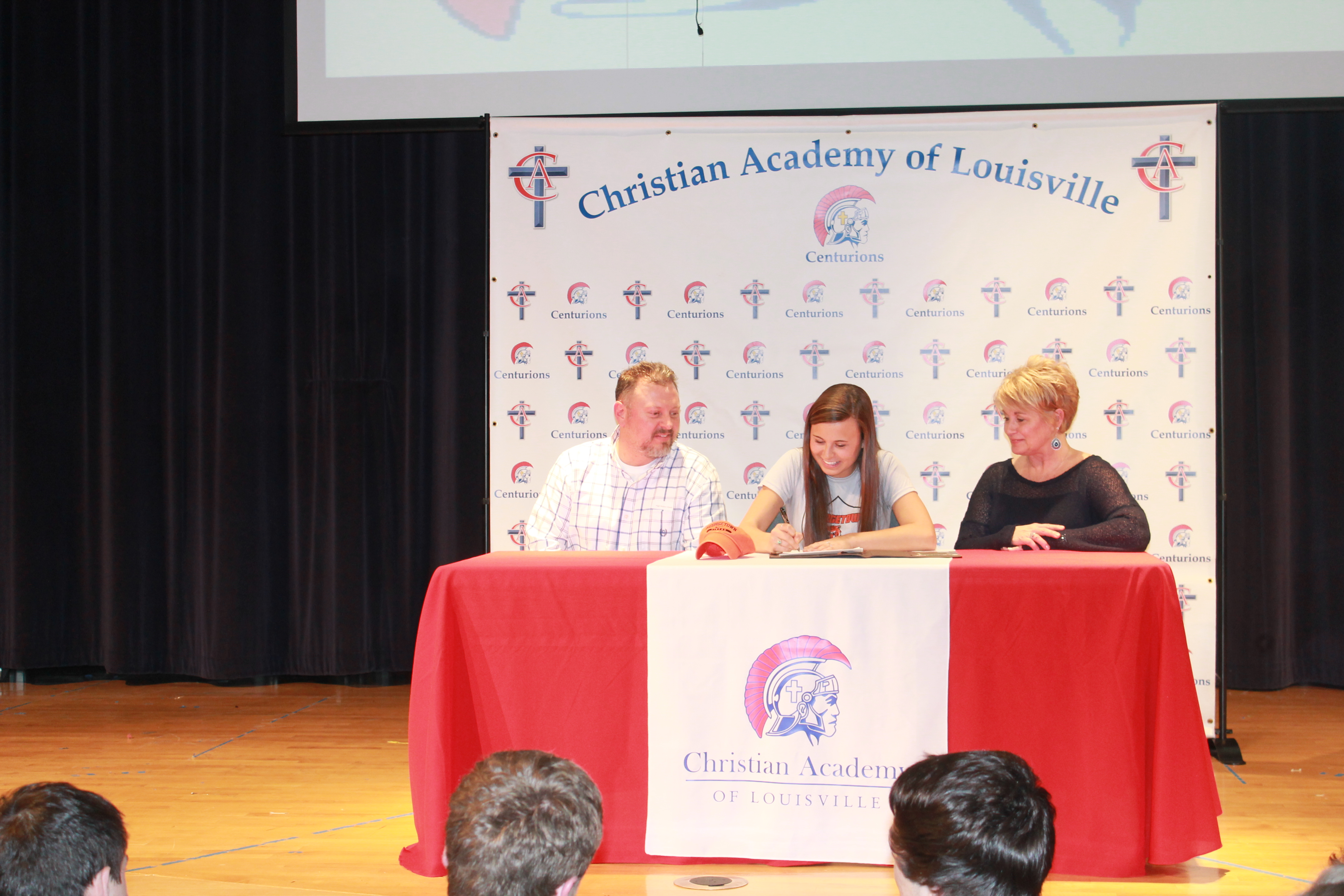 On Friday, senior Lindsey Dunn signed a letter of intent to play soccer at Georgetown College. Dunn has played soccer since her freshman year at CAL, as well as with the Derby City Rossanari club soccer team.
CAL head girls' soccer coach, John Zutt, praised Lindsey her Christ-like spirit and tenacity on the soccer field. Coach Zutt was excited for Lindsey to be moving on, but sad to be losing such an amazing soccer player.
"When I think of Lindsey, her athleticism stands out to me. She was always one of the most athletic players on the field. Another great attribute Lindsey has is perseverance. She never gave up and always strived to become a better player and follower of Christ. Lindsey is such a great prayer warrior and faith leader on our team. Georgetown is getting a great girl who will give her all every day in both soccer and in her Christian attitude," said Zutt.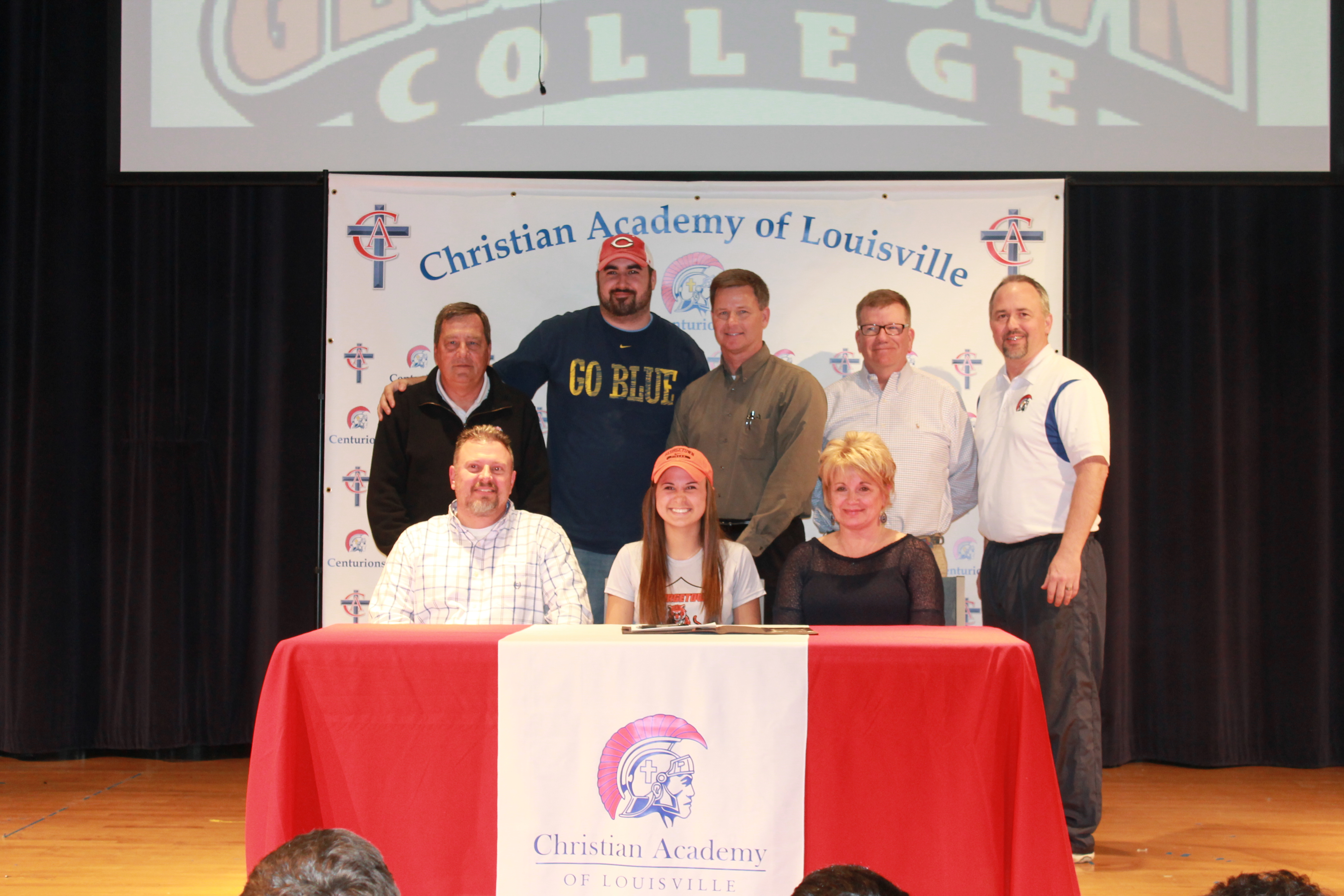 Current Derby City Rossanari head girls' club soccer coach, Dennis Murrell, was unable to attend the signing ceremony, but had many great things to say about Lindsey.
"I know that Georgetown soccer is getting a true asset for their program. Lindsey is already a really good soccer player- she is fast, smart, determined and a great teammate. What they may not realize, is how much better she will be in the coming years. Georgetown is getting a great athlete with a high ceiling and willingness to compete," said Murrell.
Former CAL head girls' basketball coach, Don Rice, praised Dunn for her dedication to working hard every day and glorifying God while doing it.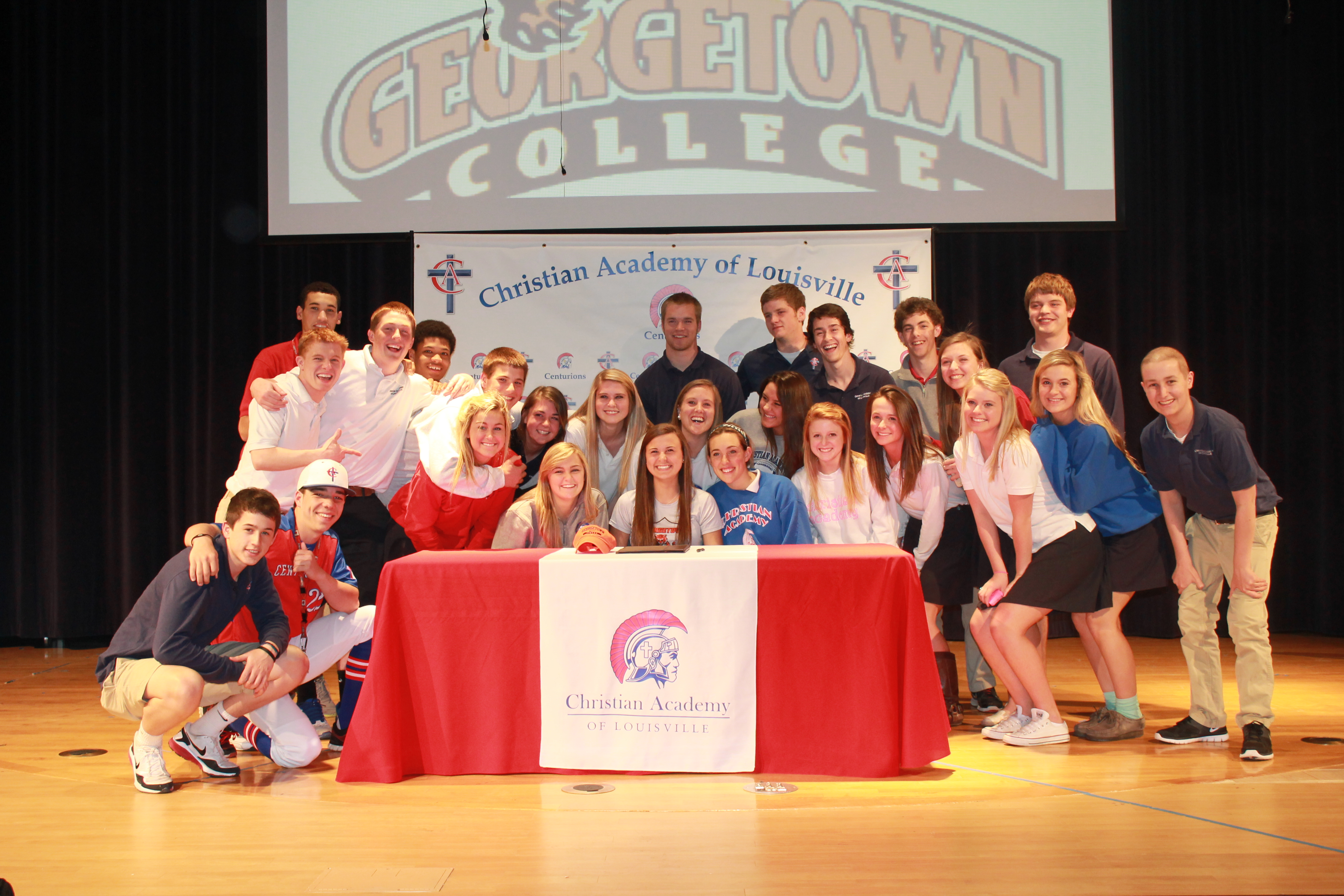 "The best thing about Lindsey and what she did for our team, is her faith and Christian attitude towards every aspect of the game. Georgetown is getting a great athlete and an even better person," said Rice.
Dunn was this year's soccer team captain, as well as chosen to play in the KY All-Star game in basketball. Lindsey is one of the most lettered high school athletes to ever come through Christian Academy, playing softball, basketball and soccer. Lindsey plans to major in telecommunications or sports administration and looks forward to playing for the Tigers next year.