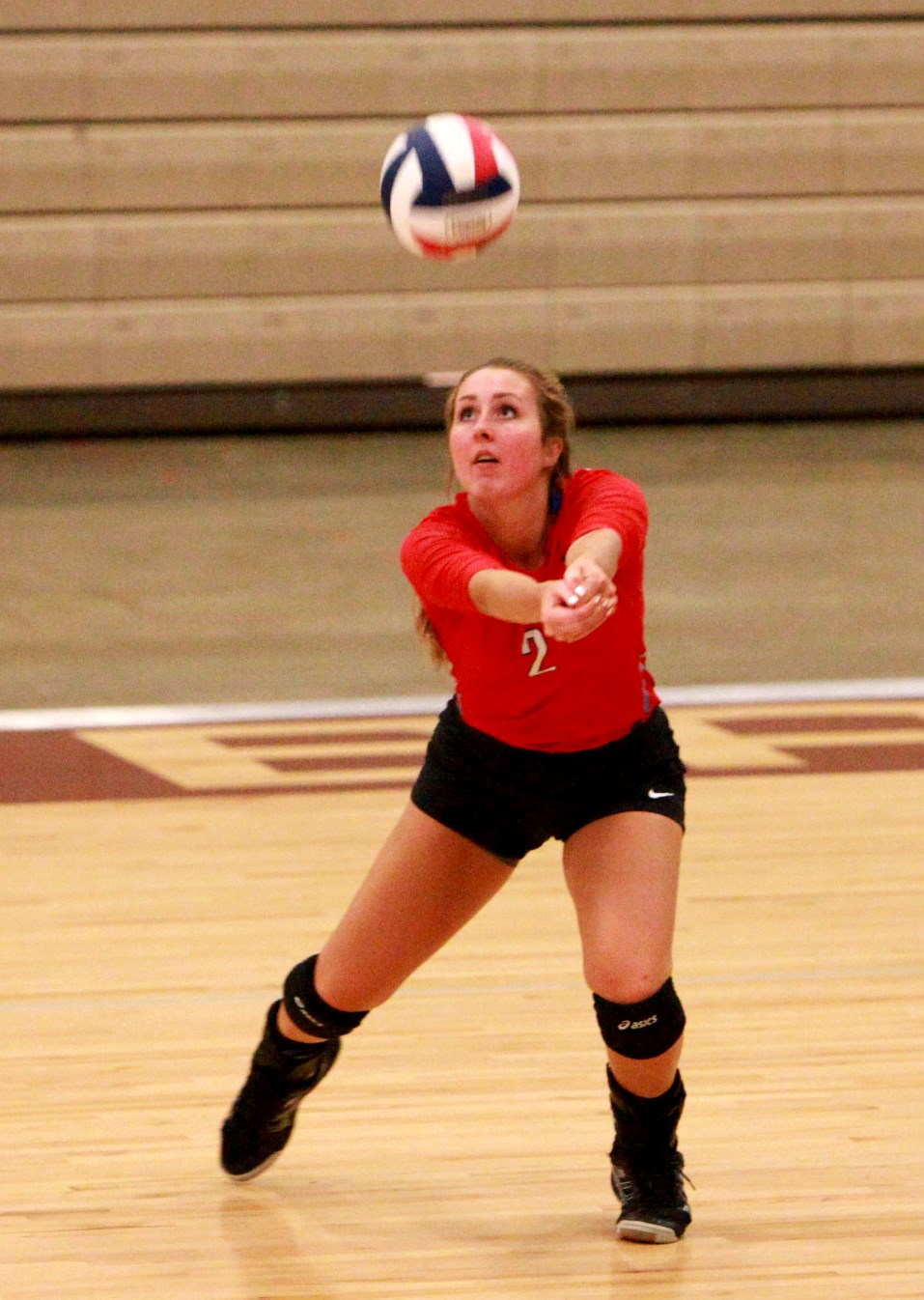 What a week it has been for the Volleyball Centurions! Thursday evening, CAL visited the Ballard Bruins for another District match. The desire to win filled the gym on both sides. Game one started with an intimidating back row attack by Caroline Rassenfoss. CAL then took an early seven point lead, and though Ballard pulled within two toward the end, a deep kill from Kasey Wilmsmeyer finished the game in CAL's favor. CAL dominated match two after a thirteen serve run by Jill Von Hoven built an early lead.
Ballard regrouped in game three, made adjustments, and became a bit more formidable going head-to-head in early play. With Ballard taking a momentary lead at 5-4, CAL displayed their flexibility as Abby Davis made a low pass to middle Casey Jane Mann, who followed with a beautiful, uncharacteristic set to normal setter Kate Amin for a smooth lefty kill. Not going down without a fight, Ballard tied the score at 13, 14, 15, 16, and 19. But, CAL was not about to give this District match away. The Centurions took charge to finish in a clean sweep (25-21, 25-6, 25-21). Subsequently, on Friday, when the Kentucky Volleyball Coaches Association updated their bi-weekly poll, CAL broke into the top ten in spot #9. This well-deserved rank moved five slots up from the KVCA pre-season #14 assessment.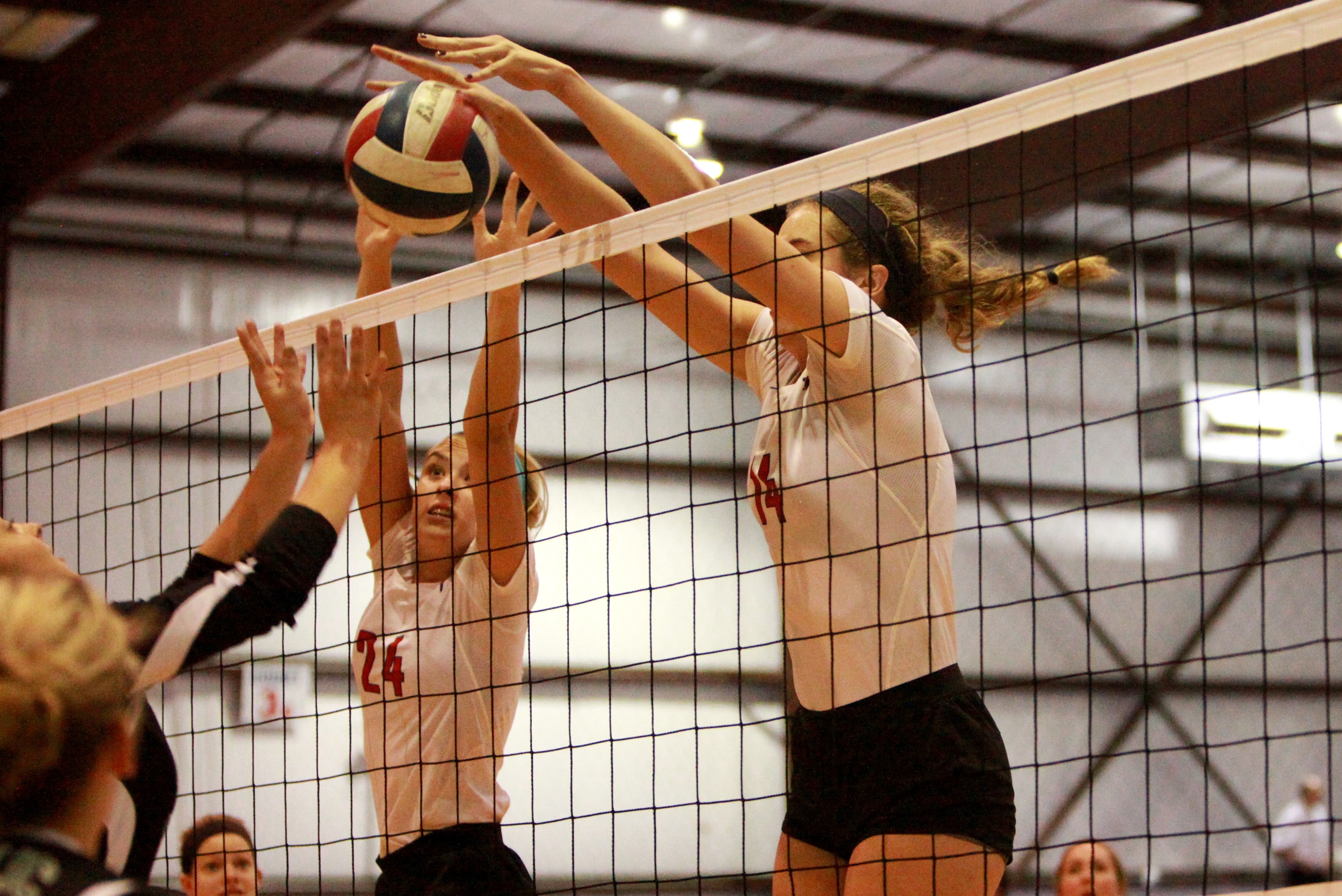 Friday after the Senior Carnival, CAL traveled three hours to play in the Quad State tournament in Paducah, Kentucky, along with 31 other teams from Kentucky, Indiana, Illinois, and Tennessee. Many of the senior six-pack remembered their Sophomore year when the team returned with a runner-up trophy after a tough match against McCracken County. Friday night's matches started with the Carbondale (IL) Terriers. Though true to their name, this tenacious team could not compete with CAL, who won easily (25-17, 25-14). Pumped up, CAL then blew past the Warren County Warriors (25-12, 25-9). Back in the gym late Saturday morning, CAL started play in the Gold bracket with an easy win against the Marshall County Lady Marshalls (25-21, 25-6).
Next up, CAL took on Apollo in a grudge match. Having knocked CAL out of the semis at the Blue Grass Invitational in September, CAL wanted to return the favor in this tournament. Just like the first meeting, CAL easily won the first match by eleven points. Again, like the first meeting, Apollo made smart adjustments in game two and took the set. The fans cringed, thinking a repeat of the previous meeting might be in the offing. But the team had other ideas, leaving the Eagles in the dust to take the match and earn a spot in the finals (25-14, 20-25, 15-9). Kudos go to Freshmen Emily Amin for a great serving run during tense moments in this match, as well as Maddie Lewis, who made some clutch serves and displayed her outstanding passing skills.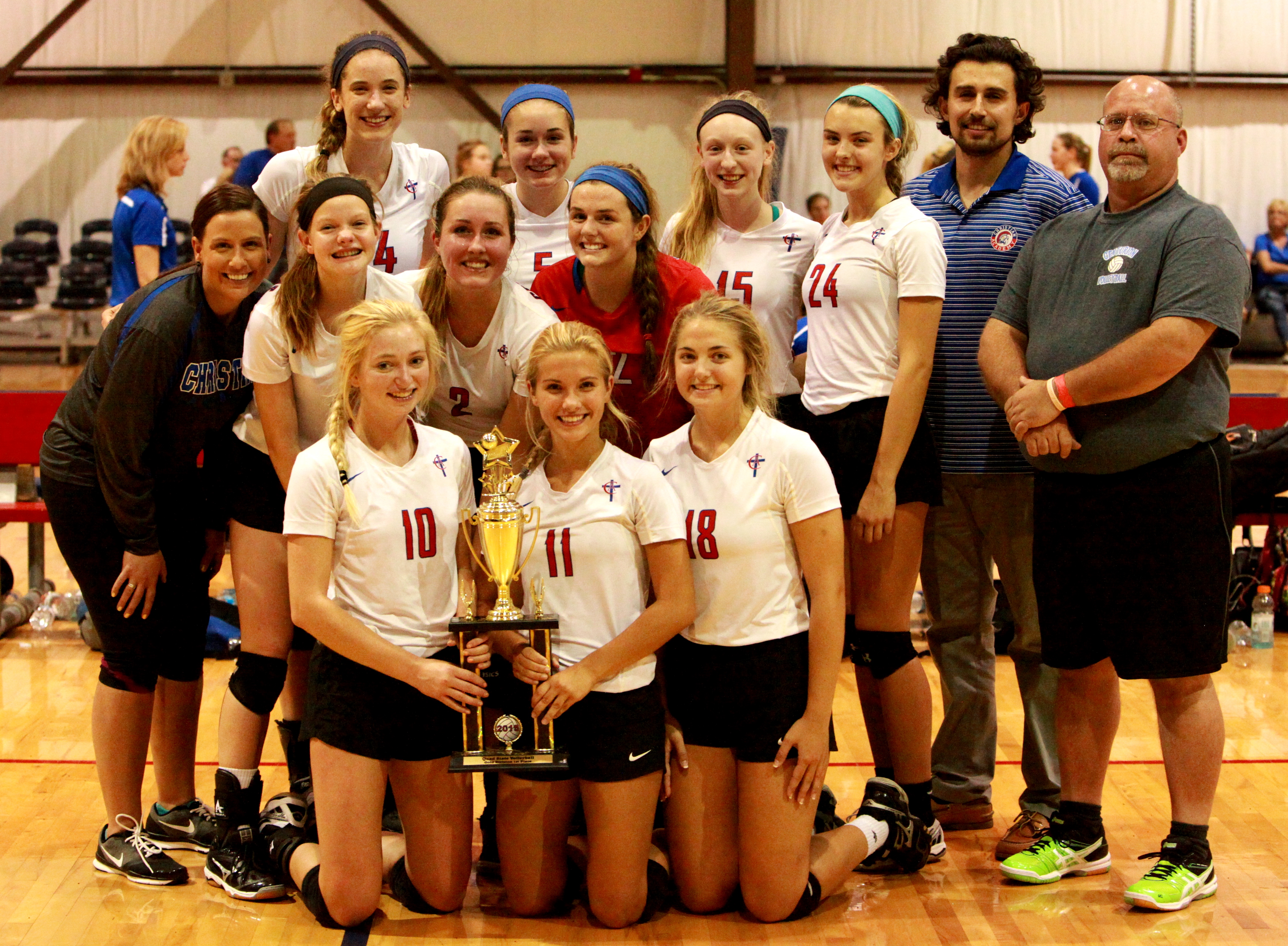 CAL's opponent in the finals, the scrappy Owensboro Catholic Aces, brought on some trepidation given they beat CAL in the semis of this same tournament last year. Game one started badly with the Aces taking an early six point lead. Picking away one-by-one, CAL fought back to tie the score at 8-8. Ties then followed at 14, 15, 16, 17, 18, 19, and 20. At this point, Hadley Trenaman took a strong stance and and served five in a row. A final back row attack by Caroline won the first game in CAL's favor. With a great battle at the net by Kate, CAL put the first point of game two on the board. A four-point serving run by Abby added to it. With Hadley not about to give in and continuing to dig like a maniac on the back row, both Kate and Hannah Wilhite fed perfect sets to Kasey and Casey Jane for some excellent hits from the middle. Several signature combos from Jill (pass) – Kate (set) – Caroline (kill) added to the score. Though tied briefly at 9s, CAL was clearly in charge of game two, winning the TOURNAMENT CHAMPIONSHIP in two sets (25-21, 25-20). It seemed only fitting that this Senior-led team, many of whom have played for CAL since the second grade, would finally bring this tournament win home to CAL.
This week, CAL will play sister school and challenging rivals at Christian Academy Indiana on Tuesday and Collins at home on Thursday. Come watch this exciting squad in action!