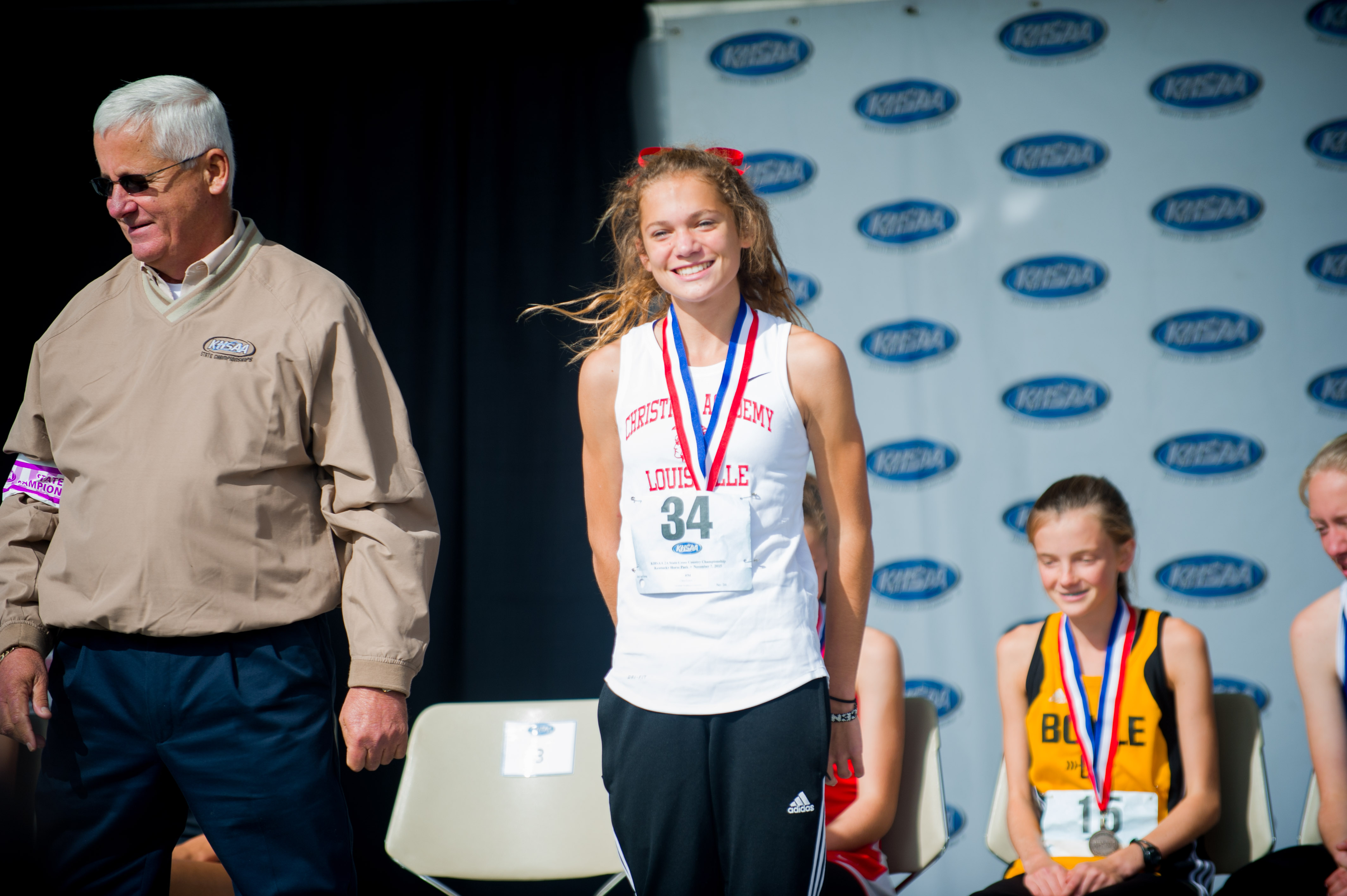 With both the girls and boys teams narrowly missing qualifying for the KHSAA State Meet, the six individuals that did qualify made the most of their opportunity in competing with the best in the state. The girls race started first, with Clara Lynch and Maddie O'Dea representing the Centurions. As they have shown all season long, they proved that they were among the best in the state. As the starting gun sounded, both quickly settled into the top 10. Junior Clara patiently bided her time, waiting until the just past the 2K mark, before surging hard. Over the next half mile she strongly moved up to 3rd place, which she would hold all the way to the finish. With her place secure, the only thing to be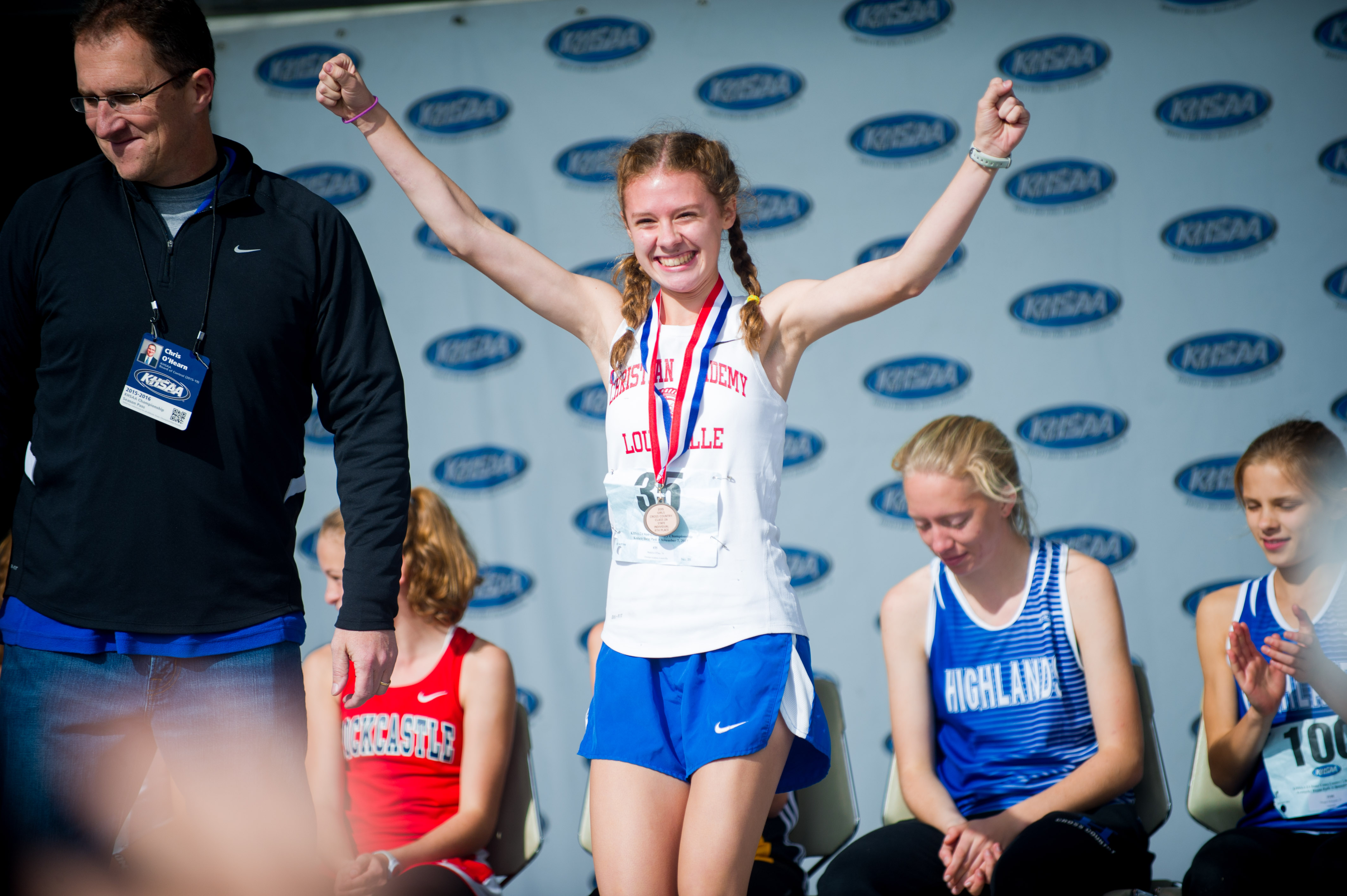 decided was how fast would she run. Hannah Herd set the school record of 19:01 last year, on the way to her own 3rd place finish. Clara kept pressing all the way to the finish to chop 15 seconds off that record, with her time of 18:46.In addition to be a National Elite mark, the timeis one of the top 30 times ever runby a Kentucky girl,on the State Meet course. WhileClara was working on her 3rd place finish, Maddie was setting herself up to use her ferocious kick. As usual, she timeditperfectly, running the last half mile in the race faster than all but winner Lexington Catholic's Mikayla Reinhart. Maddie kicked her way to 8th place in 19:23, to take over #3 on Christian Academy's all-time list. Her time is also a National Elite mark, as well as earning All-State honors.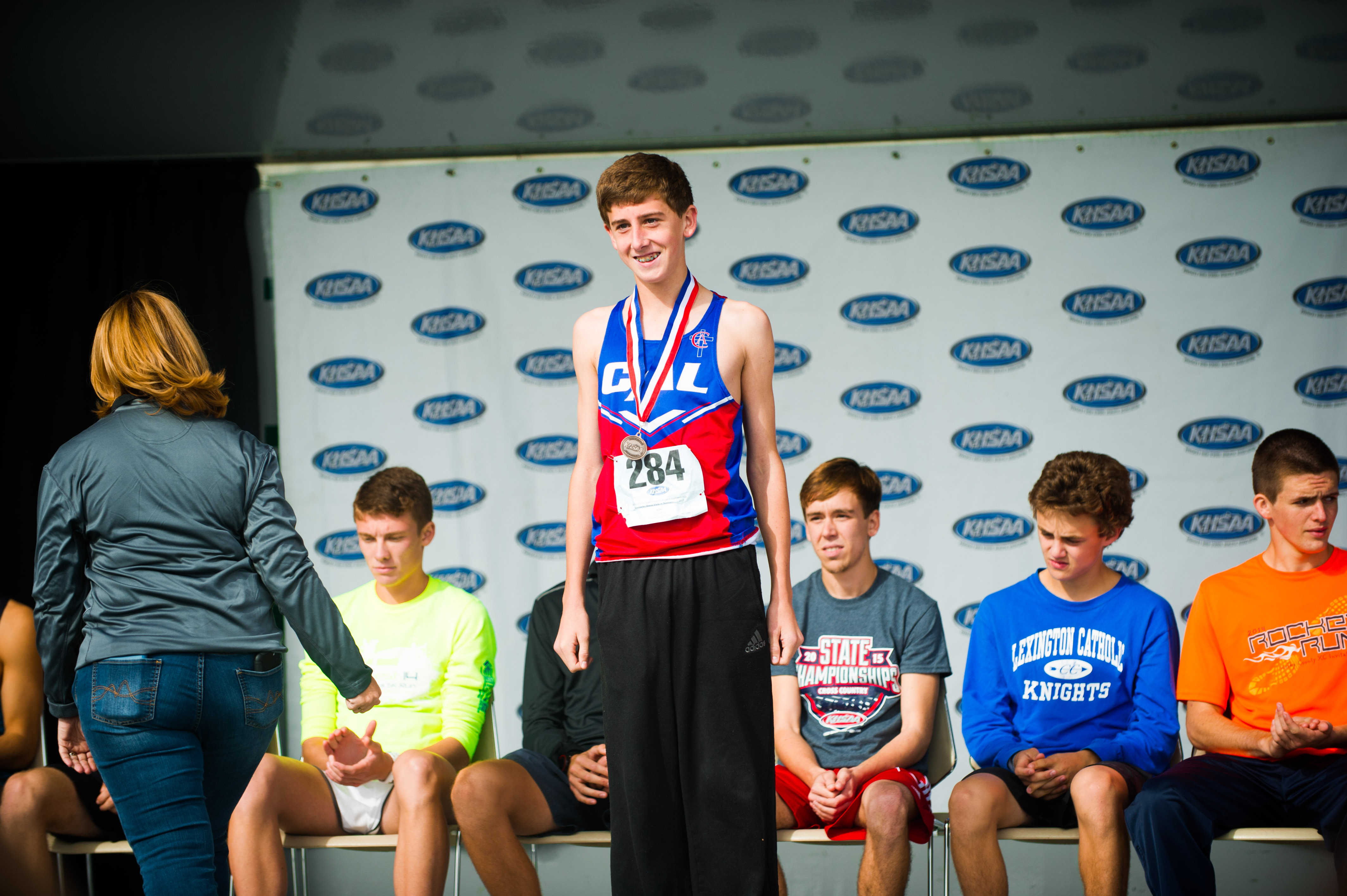 Next up was the boys race, which had a very young group of Christian Academy runners – 3 sophomores and 1 freshman. As he has done all season, Steven Ott led the way for the Centurions. Steven ran a very aggressive race, pulling himself in the last 200 meters into 15th place, the last All-State position. His time of 16:43 is the third fastest in school's history and the fastest time run in a CAL uniform, since middle school teacher TJ Eubanks recorded 16:35, back in 2001. Only a sophomore, Steven's future looks very promising. Samuel Hazelip and Jack-Harold Enyeart hit the finishing stretch together, before Samuel pulled a way slightly to lead his teammate 18:40 to 18:42. Freshman Charles Austin Sams gained valuable State Meet experience, to give the Centurions four veteran runners to make a run at a top 10 team finish next fall.
KHSAA Class 2A Cross Country State Meet – Christian Academy Results
Girls
3. Clara Lynch, 18:46.21 – PR, School Record, All-State
8. Maddie O'Dea, 19:23.46 – PR, All-State
Boys
15. Steven Ott, 16:43.84 – PR, All-State
122. Samuel Hazelip,18:40.73
125. Jack-Harold Enyeart, 18:42.02
161. Charles Austin Sams, 19:12.91