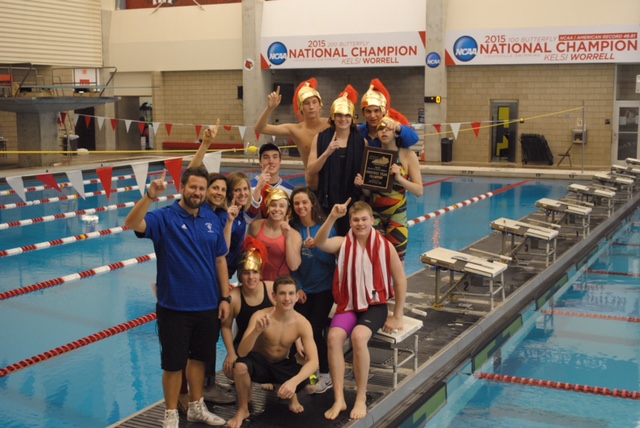 This past Thursday was an exciting day for Christian Academy Swimming and Diving as the boys and girls teams joined together to bring home the Region 5 Combined Team Championship! Along with the title came four first place finishes, region records, an outstanding relay finish, All-Region team recognition, and many personal best times.
The day began with CAL entering 25 swimmers in the preliminary heats and several of those swims resulted in personal best times. Achieving best times were:
Jessica Bozell- 200IM and 50 free
John Bozell—-100 breastroke and 50 free
Adelaide Brunton-100 backstroke and 50 free
Madalyn O'Dea—–100 backstroke and 100 free
The evening events resulted in many top 8 finishes including 1st place in one girls event and three boys events. For the girls, Julia Roy placed 1st in the 100 butterfly while also placing 7th in the 500 freestyle. She also earned All-Region team honors. Others finishing in the top 8 for the girls were:
Gabi Albiero- 50 free-3rd Place; 100 free-3rd Place
Cameron Brown-200 free- 2nd Place; 500 free-2nd Place
Hope Clark—200 free-5th Place; 100 free-5th Place
Catherine Eckerle-500 free-8th Place
Christin Eckerle-100 fly-6th Place; 100 back-7th Place
Rachel Howard-100 breaststroke-4th Place; 200IM-5th Place
Rachel Hughes-100 fly-7th Place; 100 breaststroke-6th Place
Allie Rassenfoss-200IM-7th Place; 100 back-6th Place
Finishing in the top 16 for the girls and adding points for Christian Academy were:
McGwire Corley-500 Free-12th ; 100 Breaststroke-15th
Catherine Eckerle-100 breastroke-14th Place
Elise Johnson-200 IM-14th place
Alexis Nunn-50 free-11th Place; 100 butterfly-11th Place
Also scoring points for the Centurions, was diver Kateleigh Lorimer, who finished in 4th place in region 5.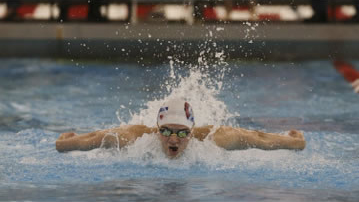 The boys team came through in a big way for CAL with two individual first place finishes as well as an exciting first place finish in the 200 free relay. Junior Nick Albiero won the 100 butterfly and 100 backstroke while setting new region records in both races. Never taking a race for granted, Nick broke his own records from last year. His accomplishments earned him the Most Outstanding Male Swimmer as well as All-Region team honors.
The most exciting event of the night was the boys 200 free relay that resulted in a first place finish for Christian Academy. The four member relay jumped out to a lead with Nick Albiero, followed by senior Jason Coultrap, freshman Jake Burd, and finally freshman Broder Magnuson. This win was crucial to CAL's overall team performance.