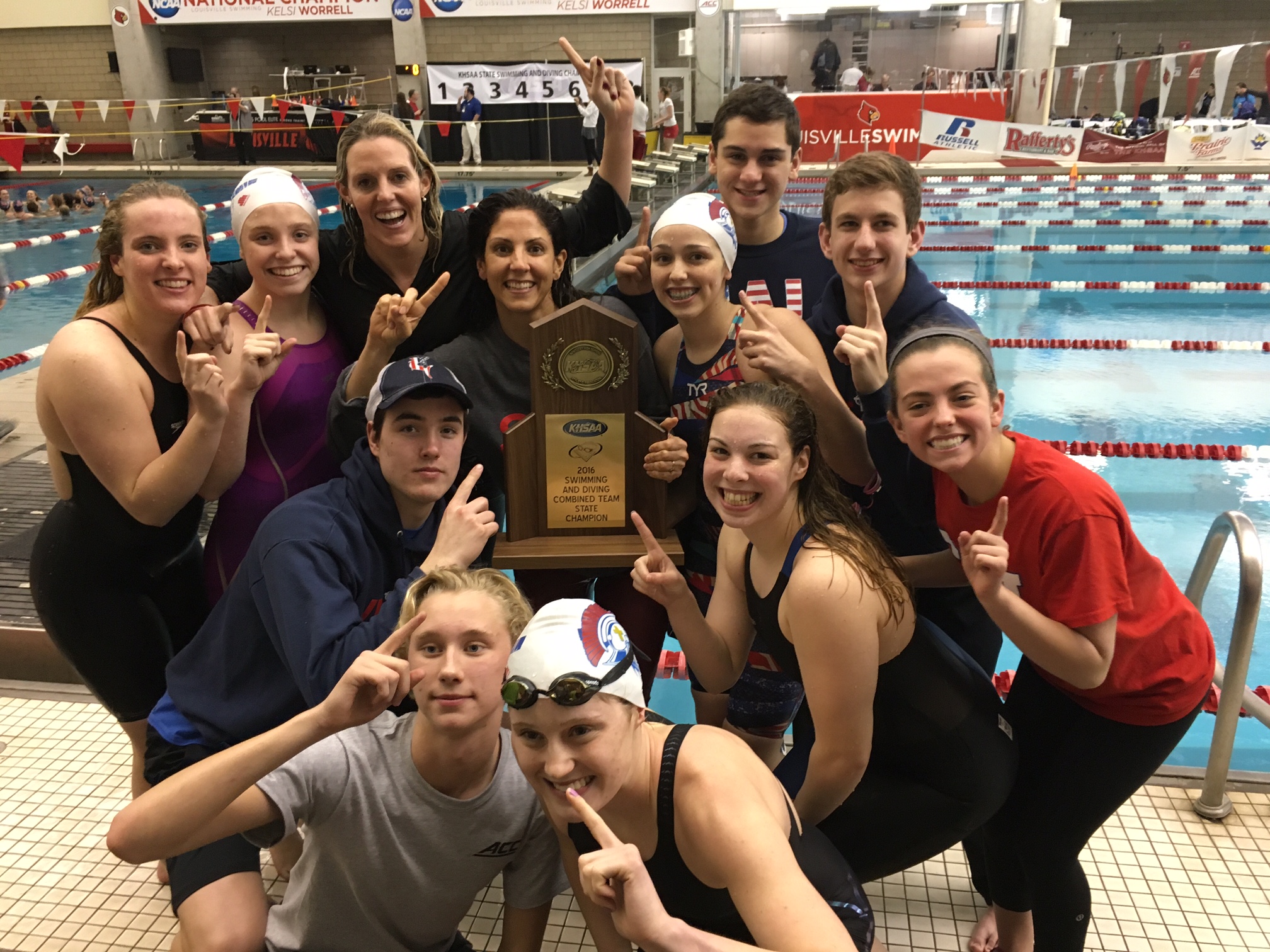 For the first time in school history, the Christian Academy of Louisville swimmers are STATE CHAMPIONS!
It was an exciting weekend as the CAL Boys and Girls Swim Teams participated in the KHSAA State Swim Championships and came home with numerous awards! Three individual state champions, All-State honors, Outstanding Competitor Award, Coach of the Year recognition and most importantly the State Championship for Combined Boys and Girls Teams.
CAL had 12 swimmers advance to the state meet held at the University of Louisville Natatorium that began with preliminary heats on Friday, Feb. 26th and continued with finals on Saturday, Feb. 27th.
For the boys, Junior Nick Albiero easily defended his two individual state titles. Favored to win both the 100 butterfly and 100 backstroke, Nick coasted to victory in both races, just .5 and .6 off the State Record in each event. Nick led off the 200 Free Relay setting a new school record with a 20.90 in the 50 Free and broke his own school record in the 100 Fly (47.63). Both men's relays, 200 Medley and 200 Free (Albiero, Jason Coultrap, Broder Magnuson, Jake Burd), also set new school record. Nicks performances earned him All-State Team honors as well as Outstanding Competitor of the meet.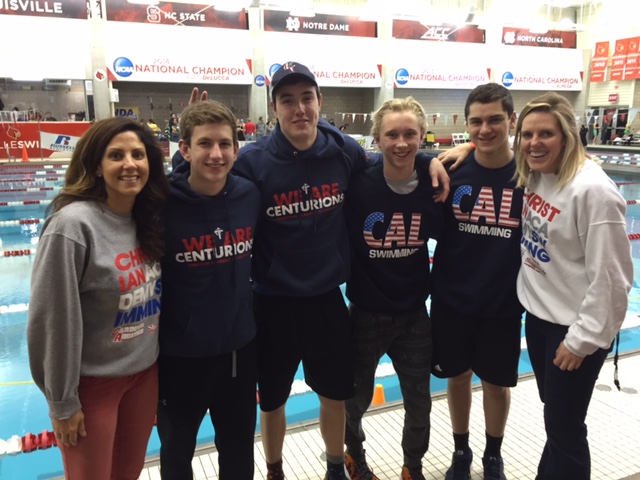 Head Coach Amy Albiero was especially proud of the boys team this year. Last year the boys finished 8th overall, and this year they earned a well deserved 4th place finish! Others participating for the boys were:
Senior- Jason Coultrap-50 free; 100 free; 200 Medley Relay; 200 Freestyle Relay
Jake Burd-100 Breastroke; 200 Medley Relay; 200 FreeStyle Relay;
Broder Magnuson-200 Medley Relay; 200 Freestyle Relay
Next up was the girls meet. The CAL Girls Team's performance was outstanding and contributed greatly to Christian Academy's win in the Combined Team category.
The most exciting victory of the night belonged to eighth grader Gabi Albiero. Surprising herself, Gabi raced to an amazing 1st place finish in the 50 freestyle. Setting a NEW state record and school record (22.80) and beating out a heavily favored senior for the championship, Gabi exited the pool deck to a very happy group of CAL family and friends and embraced her coach and mother, Amy Albiero. Gabi also took 4th place in the 100 freestyle and was a member of the 200 and 400 Freestyle Relays that set new school records. Her performances earned her All-State Team honors. New school records were also set by: Cameron Brown – 200 Free (1:49.94), and Rachel Howard – 100 Breast (1:05.06).
Among the girls division the CAL swimmers finished 3rd overall. Others swimming for the girls team were:
Senior-Cameron Brown-200 freestyle; 500 freestyle; 200 Freestyle Relay; 400 Freestyle Relay
Hope Clark- 200 freestyle; 100 freestyle; 200 Freestyle Relay; 400 Freestyle Relay
Christin Eckerle- 100 Butterfly; 200 Medley Relay
Rachel Howard-200 Individual Medley; 100 Breastroke; 200 Freestyle Relay; 400 Freestyle Relay
Rachel Hughes-100 Butterfly; 100 Breastroke; 200 Medley Relay
Allie Rassenfoss-200 Individual Medley; 200 Backstroke; 200 Medley Relay
Julia Roy-100 Butterfly; 500 freestyle; 200 Medley Relay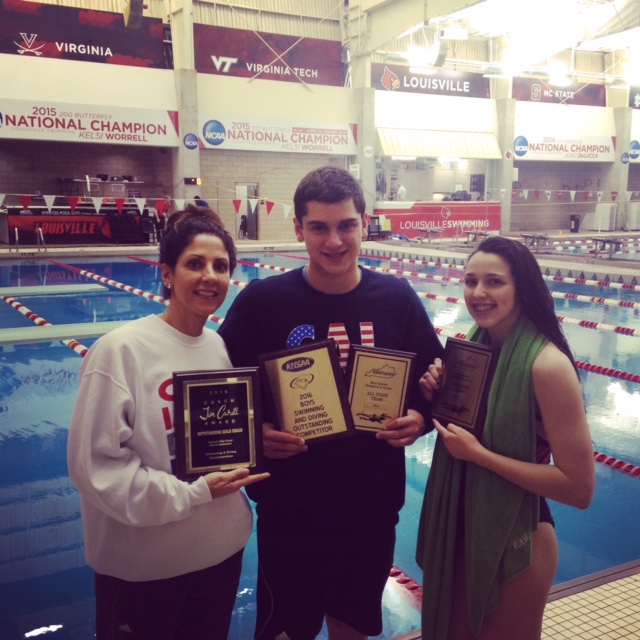 Fortunately, for Christian Academy the awards were not limited to the swimmers. Head Coach Amy Albiero was selected from among her peers to receive the Tim Cahill Most Outstanding Coach of Year Award.
Congratulations to Coach Amy and the entire staff for their support to the swimmers at Christian Academy of Louisville.