CAL Boys and Girls Swim Team Combine for 7th Place Finish At State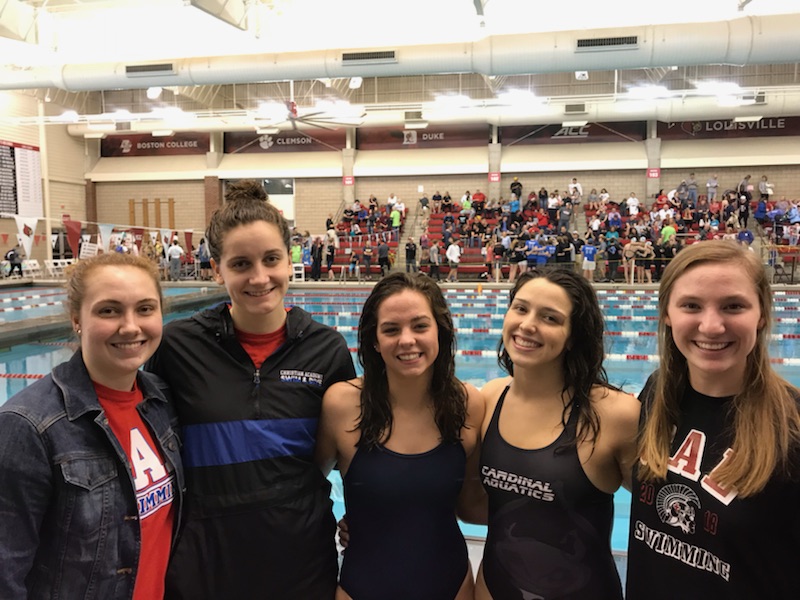 This past weekend the Boys and Girls Swim Team competed in the KHSAA State Championships held at the University of Louisville. Highlights from the weekend include several top 8 finishes, personal best times, a new state record and a state champion in two events. The meet began with boys and girls preliminary events on Friday and concluded with finals events on Saturday evening.
Christian Academy was represented by 11 swimmers participating in 13 events. Members of the Boys State Team were Jake Burd, Broder Magnuson, John Marshall, and Henry Vandertoll. The Girls State Team included Gabi Albiero, Gentry Cheek, Catherine Eckerle, Avery Guilford, Alexis Nunn, Allie Rassenfoss, and Julia Roy.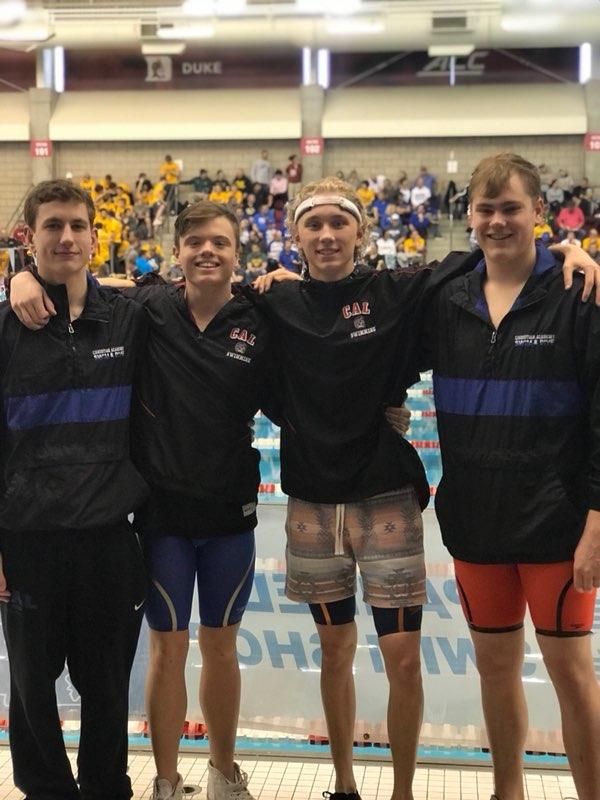 Swimmer Jake Burd was the top scorer on the Boys Team finishing third in the 100 Yard Breastroke. Jake earned a personal best time in the event which qualifies him to compete at the Junior National level. Jake also teamed up with Broder, John, and Henry to finish 10th in the 200 Yard Medley Relay and 12th in the 200 Yard Freestyle Relay. Broder also competed for CAL in the 100 Yard Freestyle and 200 Yard Freestyle.
On the girl's side of the meet, Christian Academy finished 7th overall. Swimmers Gabi Albiero and Allie Rassenfoss finished in the top 8 of their events. Allie finished 7th in the 100 Yard Backstroke and also competed in the 200 Yard Individual Medley, while Gabi won the 50 Yard Freestyle and the 100 Yard Butterfly. Gabi's time of 22.64 seconds in the 50 free broke the state record that she set in 2016 as an eighth grader. Gabi was also named to the All-State Team.
Other swimmers and events for the Girls Team were:
Gentry Cheek-100 Yard Freestyle-11th; 100 yard Backstroke-10th
Catherine Eckerle-200 Yard Individual Medley; 100 yard Backstroke
Avery Guilford-400 Yard Freestyle Relay
Alexis Nunn-400 Yard Freestyle Relay
Julia Roy-200 Yard Freestyle-10th; 500 Yard Freestyle-9th
The girls also posted strong performances in the relay events with 4th and 6th place finishes. The teams were:
200 Medley Relay-Gabi Albiero, Gentry Cheek, Catherine Eckerle and Allie Rassenfoss- 4th place
200 Freestyle Relay-Gabi Albiero, Gentry Cheek, Catherine Eckerle and Julia Roy-6th place.