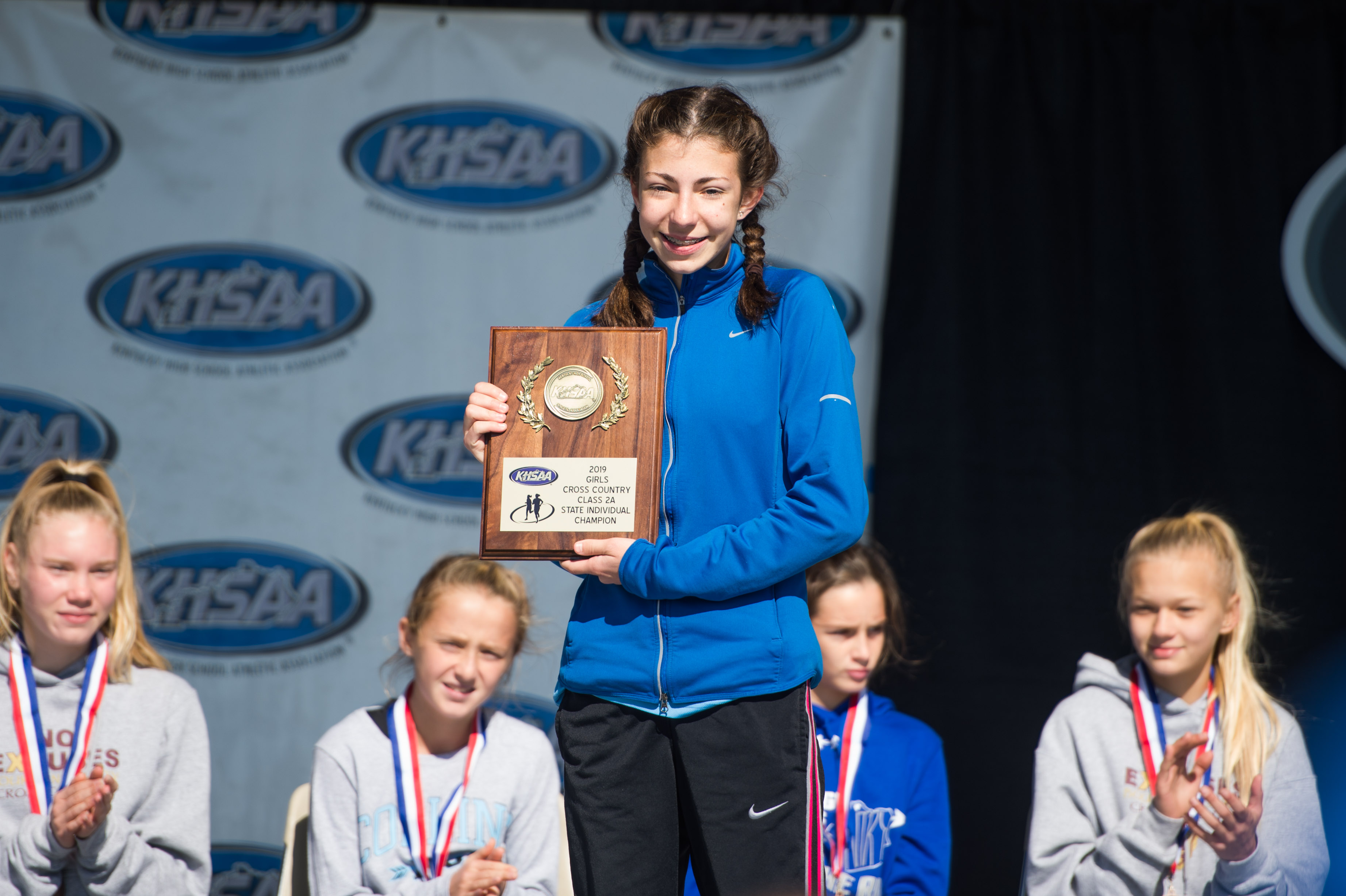 The regional meet served as a warmup for the state meet held this past weekend at the Kentucky Horse Park in Lexington. With team spots secured, the runners focused on attacking the 5k open, hilly course on a cool windy day. For the ladies, 234 runners representing 30 teams started at the gun. As the race progressed, one Centurion started to pull away to lay claim to the fastest runner in the field. CAL's Addi Dewey crossed the finish line first with a time of 19:13, 18 seconds ahead of the next runner, to take the State Championship Title!!!
She was quickly followed by Kaylee Wilson, placing 5th with a time of 19:43. The remaining Centurions were Emma Wilkins (16th, 20:22), Janna Leef (39th, 21:17), Allie Melhorn (42nd, 21:19), Caroline Bobnar (55th, 21:39) and Kaitlyn Bader (106th, 22:49). Their combined times were good enough to lead the ladies' team to a 2nd place overall in the State Class 2A division.
The boys' team, inspired by the success of the ladies, took the line next. A total of 251 runners took off, battling each other and the difficult course. Josh Starmer was the first Centurion to cross the finish line in 50th place with a time of 17:57. He was followed by teammates Tommy Ott (61st, 18:09), Matt Rosenbaum (97th, 18:39), Josh Jordan (104th, 18:44), Cameron Tapp (115th, 18:54), Carson Guilford (141st, 19:18) and Zach Siegel (145th, 19:22). This group of runners led the men's team 14th place, out of 32 teams, in the state!
Overall, the CAL cross county teams, lead by coach Brian Dewey, enjoyed a fantastic season that matched and exceeded expectations. With only a handful of seniors on the teams this year, the Centurions look to be well positioned for equally great seasons in the near future.