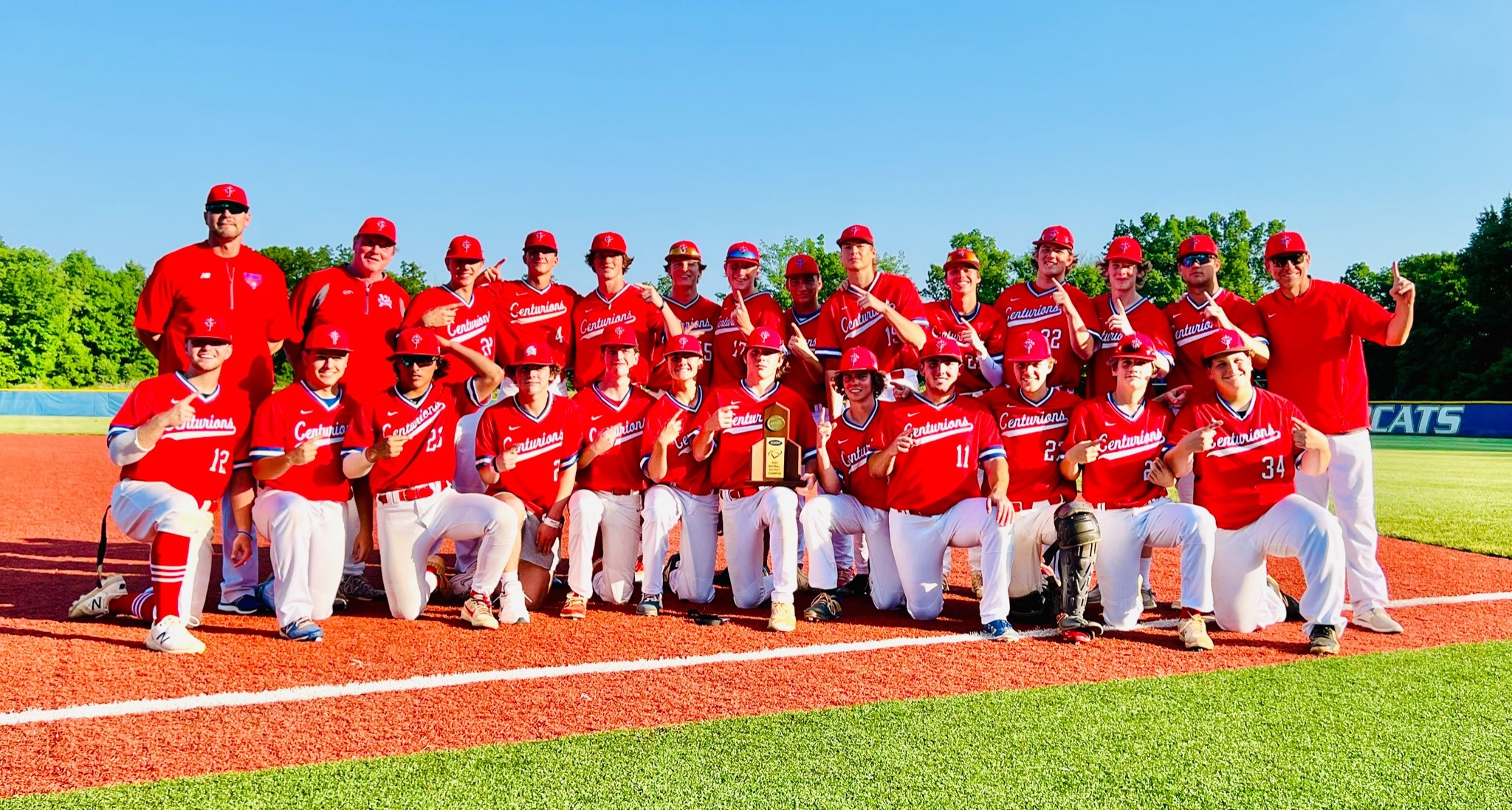 The Christian Academy Louisville baseball team won both of their games to win the 28th District Championship last week!  The tournament was hosted by Kentucky Country Day.  It was the first time in CAL history that the Centurion baseball team won both the 28th District regular season and tournament championships.  CAL will next host 3rd ranked St. Xavier in the quarter finals of the 7th Region tournament Wednesday at 6 p.m.
CAL defeated Ballard, 2-1, in the championship game behind the complete game pitching of Jack Perdue who allowed only five hits, one walk, and one unearned run while striking out 11.  Ballard scored their only run on an error on a bunt play in the third inning before Perdue retired 13 of the next 14 Ballard batters to end the game.
CAL drew first blood with a run in the bottom of the second inning.  Nick Britton drew a walk to open the frame and advanced to second base on a wild pitch before scoring on Avery Hare's double to right field.
After Ballard tied it in the third, CAL plated what proved to be the winning run in the fifth inning.  Avery Hare reached first base on a fielder's choice and then stole second base.  Jacob Price walked  with Jackson Watkins entering the game to pinch run.  Ryan Lynch then walked to load the bases.  Hare then scored when on a Michael Lynch ground out, giving CAL the 2-1 lead.
CAL had only three hits in the game, a double by Avery Hare and singles by Noah McCarty and Jack Perdue.
In the district semifinals on Monday, CAL spotted Kentucky Country Day two runs in the top of the first inning before scoring six runs in the bottom of the first en route to an 11-2 victory.
Trailing 2-0, Michael Lynch and Casey Sallade both walked to open the inning.  Courtesy runners Logan McNair and Andrew Gilliam entered the game to run for the pitcher Lynch and catcher Sallade.  Jack Perdue bunted for a single with McNair scoring when the pitcher's throw went down the leftfield line with Gilliam advancing to third and Perdue to second base.  Nick Britton then grounded an infield single to deep shortstop, scoring Gilliam, and Perdue scoring when the shortstop's throw sailed into the CAL dugout, giving CAL a 3-2 lead and with Britton advancing to second base on the play.  Later that inning with one out, Avery Hare hit into a fielder's choice but then stole second base.  Noah McCarty singled to center to score Hare before Jacob Price was hit by a pitch and Ryan Lynch walked to load the bases.  McCarty and Price then both scored when Michael Lynch grounded a single into right field, giving CAL a 6-2 lead.
CAL scored twice in the second to extend their lead to 8-2.  Nick Britton walked to lead off the second and advanced to second base when Jett Peterson bunted and reach base on an error.  Avery Hare sacrifice bunted to advance both runners who then scored on Noah McCarty's single to right field.
The lead became 9-2 in the third inning. Michael Lynch doubled to right to lead off the inning.  Logan McNair courtesy ran for pitcher Lynch and advanced to third base on Casey Sallade's sacrifice bunt.  McNair scored on Jack Perdue's infield out.
CAL's final two runs score in the fourth.  Jett Peterson walked before Avery Hare and Noah McCarty both singled to load the bases.  Peterson scored on a wild pitch and Avery Hare scored when McKade Battcher grounded out to first base giving CAL their final 11-2 margin.
After giving up two first inning runs to the first two KCD batters of the game, pitcher Michael Lynch found his groove and then retired 12 of the next 13 KCD batters before giving way to Bradey Moad who pitched final three innings of the game.
Noah McCarty led CAL with three singles and three RBI.  Michael Lynch had a double and a single.  Casey Sallade, Jack Perdue, Nick Britton, and Avery Hare all singled once.
The Centurions played five games against their district opponents this year, winning them all, and outscoring their opponents, 36-3, in those five games.  The CAL pitchers and defense have not allowed more than three runs in a game since April 30.  Jack Perdue, Michael Lynch, and Noah McCarty were all named to the 28th District All-Tournament Team.  CAL's record for the season is now 17-15.
The 7th Region tournament begins Wednesday night with CAL hosting 3rd ranked St. Xavier in a quarter final round game at 6 p.m.  The semifinals are set to be played Saturday evening (could be either 5:30 or 8 p.m.) with the regional finals scheduled for Sunday afternoon at 4 p.m.  The semi-finals and finals are all played at the University of Louisville's Jim Patterson Stadium.  CAL won the regional tournament once before in 2008.  The Centurions' last victory in a regional game was in 2015.  The Kentucky State tournament will be played June 2-11 at the University of Kentucky's Kentucky Proud Park.