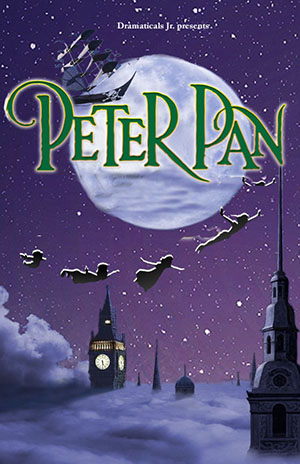 'Peter Pan – a Musical Adventure' by Craig Sodaro, music by Eric Rockwell and lyrics by Joanne Bogart.
Soar away to Neverland in this magical adaptation drawn from the beloved novel with fresh, original music!
The Darling children love to hear of Peter Pan's adventures during his visits through the open window of the nursery. Then one night after Nana has taken his shadow and Wendy has sewn it back on, Peter Pan and Tinkerbell whisk the children off to Neverland to be part of the adventures. All your favorite characters are there, including Captain Hook and his pirate crew, Princess Tiger Lily and her tribe, and of course, the Lost Boys and Girls!
A rousing and lovely musical score by the award-winning team of Rockwell and Bogart includes "The Boy Who Never Grew Up," "Fly Me to Neverland," "Follow the Leader," and "Home Sweet Home."
You won't have any trouble thinking happy thoughts when you see how surprising simple the staging is with no flying required and extensive production notes to make the multiple sets easy to create.
November 8-9, 6:30 p.m.

Tickets available online at cal.booktix.com
Adults: $5
Students and Christian Academy School System Faculty / Staff: Free